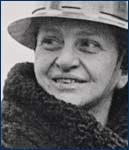 Frances Perkins was secretary of labor for the 12 years of Franklin D. Roosevelt's presidency and the first woman to hold a Cabinet post. She brought to her office a deep commitment to improving the lives of workers and creating a legitimate role for labor unions in American society, succeeding admirably on both counts. Always a consummate politician, Perkins profoundly influenced the political agenda of her day, moving it closer to the values she embraced: economic justice and security for all Americans.
Born in Boston in 1880, Perkins grew up in a comfortable middle-class Republican family descended from a long line of Maine farmers and craftsmen. When Perkins was two, the family moved to Worcester, Mass., where her father opened a profitable stationery business. Her parents were devoted Congregationalists and instilled in Perkins an earnest desire to "live for God and do something." At Mount Holyoke College, she began to understand just what that meant. Perkins majored in the natural sciences, but she studied economic history, read How the Other Half Lives, Jacob Riis' expose of the New York slums, and attended lectures by labor and social reformers such as Florence Kelley, general secretary of the National Consumer's League.
After graduation from Mount Holyoke in 1902, Perkins accepted a series of teaching positions and volunteered her time at settlement houses, where she learned firsthand the dangerous conditions of factory work and the desperation of workers unable to collect their promised wages or secure medical care for workplace injuries. By 1909, she had given up teaching science and moved to New York to study at Columbia University, where she earned a master's degree in economics and sociology in 1910. For the next two years, she served as secretary of the New York Consumers' League; working closely with Florence Kelley, she successfully lobbied the state legislature for a bill limiting the workweek for women and children to 54 hours. She also became active in the women's suffrage movement, marching in suffrage parades and giving street-corner speeches.
One of the pivotal experiences of her political life occurred in 1911, when she watched helplessly as 146 workers, most of them young women, died in the Triangle Shirtwaist fire. Many, she remembered, clasped their hands in prayer before leaping to their deaths from the upper-floor windows of a tenement building that lacked fire escapes. It was, as Perkins later explained, "seared on my mind as well as my heart—a never-to-be-forgotten reminder of why I had to spend my life fighting conditions that could permit such a tragedy."
During these years, Perkins also witnessed the widespread labor upheavals among garment and other New York City workers and learned from friends such as labor leader Rose Schneiderman the one-word solution to poverty: organize. Perkins never stopped believing that legislation was the best way to "right industrial wrongs," but unlike many women of her class, Perkins came to accept the value of working-class organization. Perkins also joined the Socialist Party but quickly concluded that practical remedies—rather than the more visionary doctrines of the socialists—held out the best chance for improving the lot of workers. In the election of 1912, she voted for Woodrow Wilson for president, not Eugene Debs, the Socialist Party candidate.
Perkins wed Paul Wilson, an economist and budget expert with the New York Bureau of Municipal Research, in 1913 at the age of 33. Withdrawing briefly from public life after her marriage and the birth of her daughter, Perkins resumed her professional career when her husband suffered an emotional breakdown (from which he never fully recovered).
In 1918, Perkins accepted Gov. Al Smith's invitation to join the New York State Industrial Commission, becoming the first female member of the commission. In 1926, she became chairwoman of the commission, and then, in 1929, the new governor, Franklin D. Roosevelt, appointed Perkins industrial commissioner of the state of New York, the chief post in the state labor department. Having earned the cooperation and respect of a wide range of political factions, Perkins, ever the master deal-maker, helped put New York in the forefront of progressive reform. She expanded factory investigations, reduced the workweek for women to 48 hours and championed minimum wage and unemployment insurance laws.
When Roosevelt tapped her as labor secretary in 1933, Perkins drew on the New York State experience as the model for new federal programs. She put every ounce of her formidable energy into weaving a safety net for a Depression-scarred society, securing a remarkable array of benefits for American workers. Frances Perkins had large ambitions—not for herself, but for the world in which she lived. Her vision found concrete expression in such landmark reforms as the Wagner Act, which gave workers the right to organize unions and bargain collectively, and the Fair Labor Standards Act, which established for the first time a minimum wage and a maximum workweek for men and women. Perkins also chaired the Committee on Economic Security, which developed and drafted the legislation that became the Social Security Act in 1935.
As secretary of labor during the 1930s and early 1940s, Perkins played a crucial role in the outcome of the dramatic labor uprisings that marked the era. She consistently supported the rights of workers to organize unions of their own choosing and to pressure employers through economic action. In one famous incident captured in a widely circulated newspaper photo, an indomitable Perkins strides toward the U.S. post office in Homestead with thousands of steelworkers training behind her. Denied a meeting hall by the mayor and steel executives, Perkins found an alternative site where she could inform the workers directly of their collective bargaining rights. It was also the unflappable Perkins who advised President Roosevelt to ignore the pleadings of state and local officials for federal troops to quell the 1934 San Francisco General Strike. The successful resolution of that strike as well as countless others during her tenure as labor secretary laid the foundation for the rebirth of American labor.
Perkins' actions on behalf of labor angered many conservatives, however. In 1939, the House Un-American Activities Committee brought an impeachment resolution against her after she refused to deport Harry Bridges, the head of the west coast longshore union. The impeachment proceedings eventually were dropped for lack of evidence.
In 1945, Perkins resigned from her position as labor secretary to head the U.S. delegation to the International Labor Organization conference in Paris. President Truman subsequently appointed her to the Civil Service Commission, a job she held through 1953. In the last years of her life, Perkins assumed a professorship at Cornell University's School of Industrial and Labor Relations. She died in New York at the age of 85 and was buried in her family's plot in New Castle, Maine.