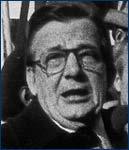 President of the AFL-CIO from 1979 to 1995, Lane Kirkland inherited a labor movement under heavy assault. Moving quickly to stem labor's decline, Kirkland initiated significant institutional innovations and secured the re-affiliation of almost all the large national unions that remained outside the AFL-CIO. His greatest legacy, however, was global. Kirkland's early and passionate support for the Polish labor movement, Solidarity, proved pivotal in ensuring the ultimate collapse of Soviet-dominated regimes throughout Eastern Europe.
Born on March 12, 1922, in Camden, S.C., to a prominent Old South family, Joseph Lane Kirkland was the son of Randolph Withers Kirkland, a cotton buyer, and Louise Richardson. Raised in nearby Newberry, a cotton textile town, Kirkland attended public school with the sons and daughters of mill workers and came to sympathize with their plight. "If a guy was fired, he'd lose his house, he'd lose everything," he later remembered. "There's no better way to get an education in becoming a liberal than to be exposed to these sorts of things."
As a teenager in 1939, Kirkland spent a year at Newberry College before signing on as a deck cadet on the S.S. Liberator, a ship in the U.S. Merchant Marine. In 1941, Kirkland entered the U.S. Merchant Marine Academy; after his graduation in 1942, he served as chief mate on ships carrying war materiel to troops in both Europe and the Pacific. He also joined the Organization of Masters, Mates, and Pilots, which was affiliated with the AFL. In June 1944, he married Edith Draper Hollyday. The couple raised five daughters and were divorced in 1972. In 1973, Kirkland married Irena Neumann.
After World War II, Kirkland earned a bachelor's degree from the School of Foreign Service at Georgetown University but took a job in the Research Department of the AFL and never looked back. On assignment from the labor federation, he wrote speeches for the Democratic Party's vice presidential candidate in 1948 and for its presidential candidate, Adlai Stevenson, in both 1952 and 1956. In 1958, he briefly left the recently merged AFL-CIO to become director of research and education for the International Union of Operating Engineers, but he returned in 1960 to serve as AFL-CIO President George Meany's executive assistant. In that role, Kirkland was a strong supporter of President Lyndon Johnson's War on Poverty and an effective advocate of racial equality. He coordinated the federation's campaign against racial discrimination by its own affiliates and lobbied successfully for the inclusion of a fair employment practices provision in the 1964 Civil Rights Act.
In May 1969, Kirkland was named secretary-treasurer of the AFL-CIO. Strongly supporting American involvement in Vietnam, Kirkland was instrumental in the AFL-CIO's refusal to endorse the anti-war candidacy of Democratic Sen. George McGovern in 1972. At the same time, his opposition to the policies of President Richard Nixon earned him a place on Nixon's notorious "enemies list." Upon Meany's retirement in 1979, Kirkland was unanimously chosen to lead the federation.
Kirkland quickly put his own stamp on the organization. He took up the cause of Solidarity, funneling more than $6 million in aid to Polish workers in the form of cash and communications equipment. This aid was considered instrumental in Solidarity's successful effort to end 50 years of Communist Party rule in Poland. In 1994, President Bill Clinton recognized Kirkland's efforts by presenting him the Presidential Medal of Freedom, the nation's highest civilian honor.
Solidarity was the theme of Kirkland's leadership of the U.S. labor movement as well. Stressing the importance of unity, he insisted, "All sinners belong in the church." Thanks to his efforts, the Teamsters, the United Auto Workers, the United Mine Workers, the Brotherhood of Locomotive Engineers and the International Longshore and Warehouse Union rejoined the federation. In 1981, Kirkland organized a massive "Solidarity Day" rally in Washington, D.C., to dramatize labor's opposition to the conservative policies of Ronald Reagan's presidency and the following year he strengthened labor's get-out-the-vote effort with a "Solidarity Day 2" campaign. In 1984, breaking with precedent, Kirkland encouraged the early endorsement of Walter Mondale in the Democratic Party primaries, ensuring Mondale's nomination and mobilizing widespread support for him during the general election.
Increased political mobilization was not Kirkland's only innovation. He nominated the first woman to the AFL-CIO's Executive Council and increased the role of African Americans, Latinos and Asian Americans in the organization. He upgraded the federation's media and public relations departments, creating the Labor Institute of Public Affairs (LIPA) to get the union message out to the wider public through the mass media. And he created a new Organizing Institute to train organizers for affiliates. In addition, Kirkland created an internal Committee on the Future of Work, which authored two influential pamphlets detailing a host of innovative strategies for increasing labor's effectiveness.
He retired in 1995 and died at his home in Washington in 1999 at the age of 77.