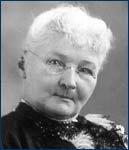 Typically clad in a black dress, her face framed by a lace collar and black hat, the barely five-foot tall Mother Jones was a fearless fighter for workers' rights—once labeled "the most dangerous woman in America" by a U.S. district attorney. Mary Harris "Mother" Jones rose to prominence as a fiery orator and fearless organizer for the Mine Workers during the first two decades of the 20th century. Her voice had great carrying power. Her energy and passion inspired men half her age into action and compelled their wives and daughters to join in the struggle. If that didn't work, she would embarrass men to action. "I have been in jail more than once and I expect to go again. If you are too cowardly to fight, I will fight," she told them.
Mother Jones' organizing methods were unique for her time. She welcomed African American workers and involved women and children in strikes. She organized miners' wives into teams armed with mops and brooms to guard the mines against scabs. She staged parades with children carrying signs that read, "We Want to Go to School and Not to the Mines."
Early Years 
Born Mary Harris in Cork County, Ireland, the woman who would become Mother Jones immigrated to North America with her family as a child to escape the Irish famine. She spent her early years in Canada and trained to be a dressmaker and teacher. Historians are uncertain about her exact date of birth but she was baptized on August 1, 1837.
In her early 20s, she moved to Chicago, where she worked as a dressmaker, and then to Memphis, Tenn., where she met and married George Jones, a skilled iron molder and staunch unionist. The couple had four children when tragedy struck: A yellow fever epidemic in 1867, which killed hundreds of people, took the lives of Mary's husband and all four children.
Mary moved back to Chicago and returned to commercial dressmaking. She opened her own shop, patronized by some of the wealthiest women in town. According to one account of her life, Mary's interest in the union movement grew when she sewed for wealthy Chicago families. "I would look out of the plate glass windows and see the poor, shivering wretches, jobless and hungry, walking alongside the frozen lake front," she said. "The tropical contrast of their condition with that of the tropical comfort of the people for whom I sewed was painful to me. My employers seemed neither to notice nor to care."
Tragedy struck Mary again when she lost everything in the Great Chicago Fire of 1871. After the fire, Mary began to travel across the country. The nation was undergoing dramatic change, and industrialization was changing the nature of work. She moved from town to town in support of workers' struggles. In Kansas City, she did advance work for a group of unemployed men who marched on Washington, D.C. to demand jobs. In Birmingham, Ala., she helped black and white miners during a nationwide coal strike. Mary organized a massive show of support for Eugene Debs, the leader of the American Railway Union, after he served a six-month prison sentence for defying a court order not to disrupt railroad traffic in support of striking Pullman workers.
A Mother to Millions of Working Men and Women 
In June 1897, after Mary addressed the railway union convention, she began to be referred to as "Mother" by the men of the union. The name stuck. That summer, when the 9,000-member Mine Workers called a nationwide strike of bituminous (soft coal) miners and tens of thousands of miners laid down their tools, Mary arrived in Pittsburgh to assist them. She became "Mother Jones" to millions of working men and women across the country for her efforts on behalf of the miners.
Mother Jones was so effective the Mine Workers sent her into the coalfields to sign up miners with the union. She agitated in the anthracite fields of eastern Pennsylvania, the company towns of West Virginia and the harsh coal camps of Colorado. Nearly anywhere coal miners, textile workers or steelworkers were fighting to organize a union, Mother Jones was there.
She was banished from more towns and was held incommunicado in more jails in more states than any other union leader of the time. In 1912, she was even charged with a capital offense by a military tribunal in West Virginia and held under house arrest for weeks until popular outrage and national attention forced the governor to release her.
Mother Jones was deeply affected by the "machine-gun massacre" in Ludlow, Colo., when National Guardsmen raided a tent colony of striking miners and their families, killing 20 people—mostly women and children. She traveled across the country, telling the story, and testified before the U.S. Congress.
In addition to miners, Mother Jones also was very concerned about child workers. During a silk strike in Philadelphia, 100,000 workers—including 16,000 children—left their jobs over a demand that their workweek be cut from 60 to 55 hours. To attract attention to the cause of abolishing child labor, in 1903, she led a children's march of 100 children from the textile mills of Philadelphia to New York City "to show the New York millionaires our grievances." She led the children all the way to President Theodore Roosevelt's Long Island home.
In her 80s, Mother Jones settled down near Washington, D.C., in 1921 but continued to travel across the country. In 1924, although unable to hold a pen between her fingers, she made her last strike appearance in Chicago in support of striking dressmakers, hundreds of whom were arrested and black-listed during their ill-fated four month-long struggle. She died in Silver Spring, Md. on Nov. 30, 1930, and was buried in the Union Miners Cemetery in Mount Olive, Ill.
Sources 
Collins, Gail. America's Women, 2003, p. 287-289; The Illinois Labor History Society, www.kentlaw.edu/ilhs/majones.htm; photo from George Meany Memorial Archives.