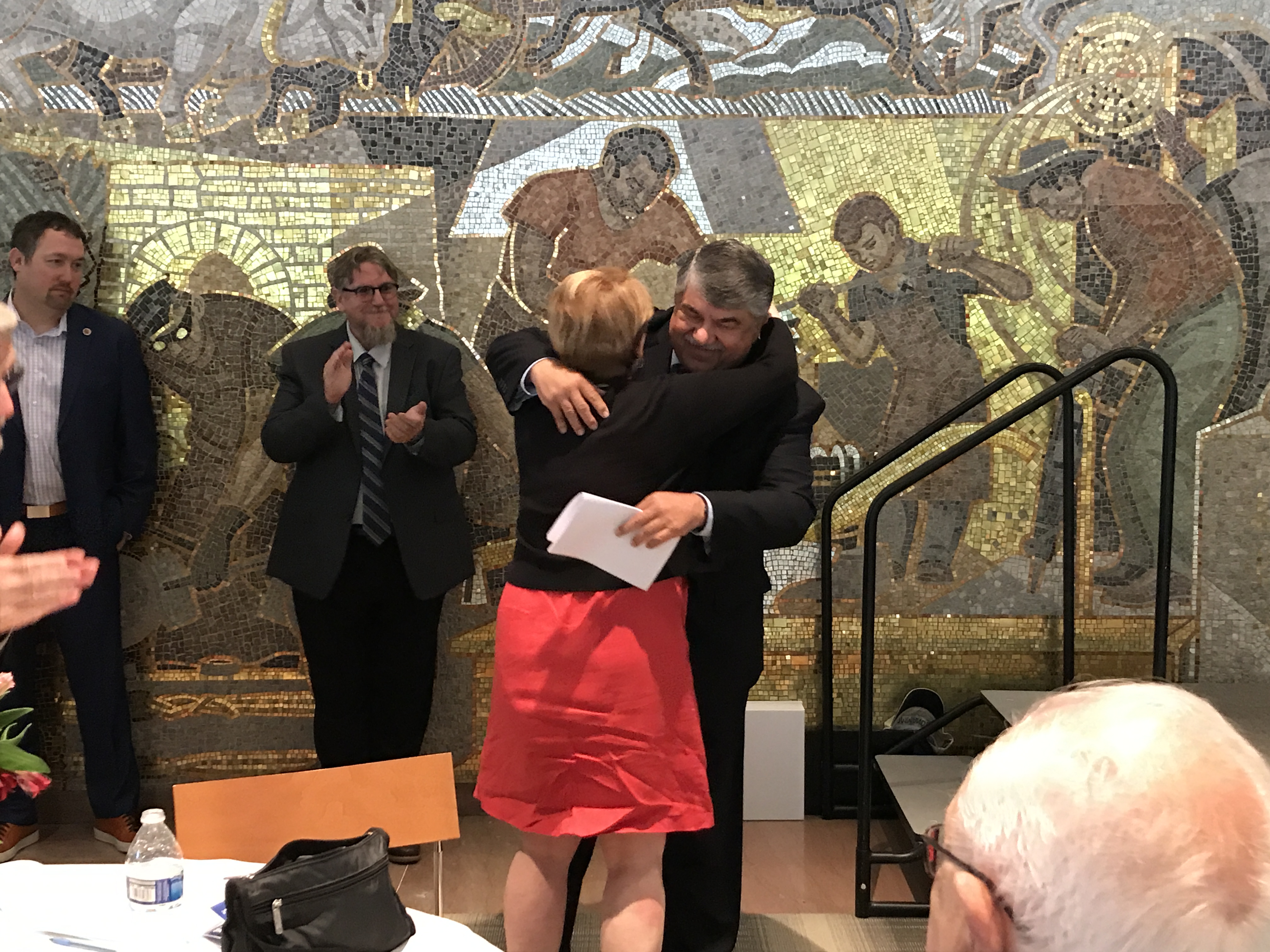 AFL-CIO President Richard Trumka delivered the following remarks at AFL-CIO Safety and Health Director Peg Seminario's retirement celebration: 
Good afternoon, brothers and sisters. Thank you for being here.
It is an honor to join you today to celebrate one of the greatest trade unionists in the history of the AFL-CIO—Peg Seminario. And I mean that with every bone in my body. 
42 years. 42 years of service and solidarity, passion and professionalism.
Believe it or not, Peg has served under every single AFL-CIO president. We all know Peg is fond of asking provocative questions at meetings, so I wanted to reverse the roles a bit and ask her this:
Peg, who was your favorite AFL-CIO president?
Now she knows how it feels!
Peg's candor is one of her greatest qualities. She is always pushing us to do better...to BE better. She is never afraid to ask a tough question. And she doesn't hesitate to speak truth to power.
In fairness, she probably took being bold a little too far when...on her first day at the AFL-CIO in 1977...she parked her bike in George Meany's spot. Meany was none too happy!
Thankfully, Peg made it to her second day... and her third...and so on. And now, nearly 15,000 days later, we're celebrating the incredible legacy she's crafted.
Peg got her start under the tremendous George Taylor. And through his guidance, she took the work of safety and health to another level. No one has done it longer or better than Peg. Nobody has worked harder or smarter. Millions of people are better off because of Peg's leadership and dedication. She's saved countless lives, many of whom will never know it.
The Occupational Safety and Health Act was adopted in 1970. Peg came on board at the AFL-CIO seven years later. And every day since, she has used her voice and influence to build the architecture of that law, signed by a Republican president, I might add. How times have changed. But Peg never has.
Every major safety and health rule adopted in the past 40 years bears Peg's mark. Beryllium. Asbestos. Lead. Noise. You name it.
Many of you probably saw Jon Stewart's moving Congressional testimony about the need to provide 9-11 first responders with lifetime medical care. Well, you should also know that the 9-11 Health and Compensation Act would have never become law in the first place if it were not for Peg's relentless determination.
And what about silica? Workers have been warning about the dangers of this chemical compound since Eleanor Roosevelt was first lady. Yet it wasn't until 2016, after 19 years of regulatory stops and starts, that the United States government finally updated its antiquated silica standard. And it only happened after Peg called out the Obama Administration for issuing fewer safety and health standards than the Bush Administration. Her voice moved mountains.
As you know, I have more than a passing interest in safety and health issues, given the dangers of being a mine worker. I lost multiple relatives to Black Lung and I pledged to never let that happen to another family  So I have come to rely on Peg's expert counsel.
I could go on and on about the ways Peg helped workers. But she also had a tremendous impact on the people she worked with.
Peg's colleagues and friends use words like "teacher" and "mentor" to describe her. They each can provide examples where she went out of her way to welcome and support them. They are quick to mention her poise, stamina and humor. They say she is the consummate collaborator. Peg brings people together.
Peg has been a particular inspiration to the working women of the AFL-CIO. Did you know that Lynn Rhinehart started as a safety and health specialist under Peg? Together, this dynamic duo started the AFL-CIO's "Death on the Job" report in 1992, launching it at a press conference with then-Secretary-Treasurer Tom Donahue, who is here with us today. There is no doubt that the report they started 27 years ago, coinciding each April with Workers Memorial Day—has helped shape the debate around the state of safety and health. Today, the Bureau of Labor Statistics keeps and reports more detailed figures about worker injuries and deaths than ever before—because of Peg's push for transparency. 
Lynn is only one of many who benefited from Peg's guidance. When Peg needed to hire a deputy, she made an investment in a young woman named Rebecca Reindel. Maybe she saw some of herself in Rebecca. An upstart with the right mix of passion and values. Perhaps Peg remembered the opportunity she was given early in her career when she got interested in the labor movement after raising concerns about worker lead exposures at Boston City Hospital. 
Rebecca has grown into the job with skill and grace, and while Peg can never be replaced, she leaves the AFL-CIO's safety and health work in trusted and reliable hands. Paving the way for others—including the creation of fellowships and opportunities to teach and inspire the next generation of safety and health activists—is one of the defining aspects of Peg's legacy.
Peg's name has been floated many times to head up OSHA. But here's the truth: she already has. In many ways, occupational safety and health was born and raised under the careful stewardship of Peg Seminario. Work is safer because of Peg. Lives are better because of Peg. Progress has been made, slowly but surely, because Peg demanded better. Peg helped change the world, from right here at 815 16th Street, and each of us had the privilege of watching her doing it.
Ralph Waldo Emerson once said, "To know one life has breathed easier because you have lived, that is to have succeeded." By that, and every other measure, Peg, you've more than succeeded. You've soared. Congratulations on a well-deserved retirement.
We love you. We'll miss you. And, it will never be the same without you.