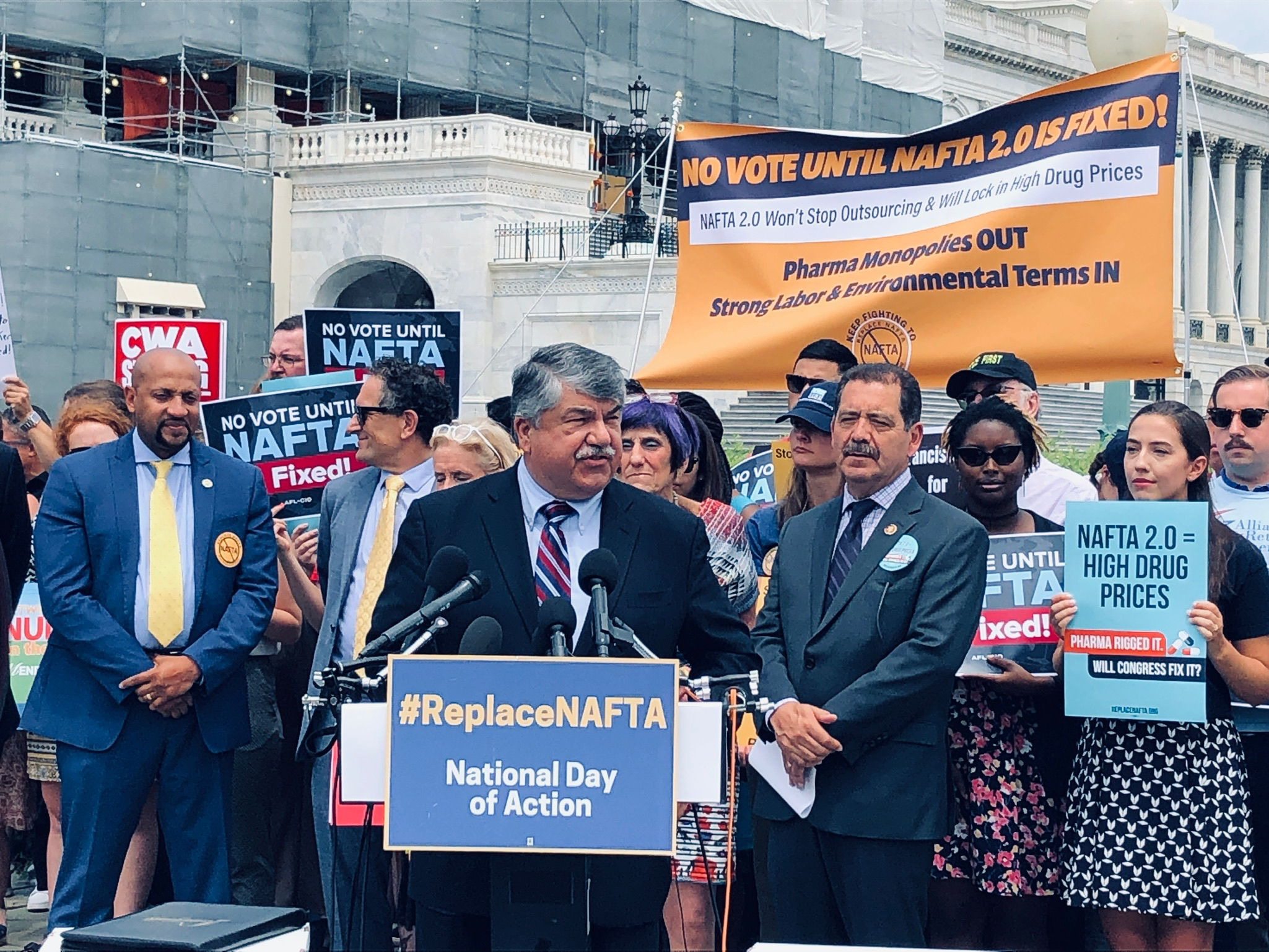 AFL-CIO President Richard Trumka delivered the following remarks at a press conference on Capitol Hill to deliver petitions signed by hundreds of thousands of Americans demanding that there is no vote on a new NAFTA until it is improved:

Good afternoon.
Thank you, Rosa (DeLauro), for that introduction and for being such a champion on this issue.
I am here on behalf of the 55 unions and 12.5 million members of the AFL-CIO to say: NO VOTE on the new NAFTA!
I spent last week holding roundtables and town hall meetings at ground zero for our failed trade policies. Pittsburgh, Youngstown, Akron, Dayton, Cleveland and Detroit.
The workers in these towns sent me back here with a message: the new NAFTA is not good enough!
People are hurting. They are searching for answers. And they refuse to support another trade agreement that doesn't account for their needs.
We are delivering hundreds of thousands of petitions to Congressional offices today. Faith leaders, labor unions, environmental organizations, consumer groups—we are all united. 
NO VOTE on a new NAFTA until it is worthy of the American people. 
As I traveled through the Midwest last week, I couldn't help but think about 1994.
We warned Congress. We warned President Clinton. We KNEW this would happen. 25 years later, we simply will not allow history to repeat itself. 
Do we want to replace NAFTA? Of course we do. 
But doing it right is more important than doing it fast. 
So there should be NO VOTE until Mexico can prove that it has the infrastructure and resources to eliminate nearly a million protection contracts and raise wages and standards through REAL unions. 
There should be NO VOTE until the new NAFTA has a dispute settlement process that can't be blocked by one of the parties. 
There should be NO VOTE until workers have a way to enforce this agreement, including the right to stop goods at the border that were produced in violation of the labor chapter. 
Working people are watching. We are ready to turn the page on NAFTA. We are ready to end the era of outsourcing. So it is time for negotiators to go back to the table and hammer out an agreement that is good for working people. Bring us a deal like that, and we'll support it.

But until then: NO VOTE! NO VOTE! NO VOTE!