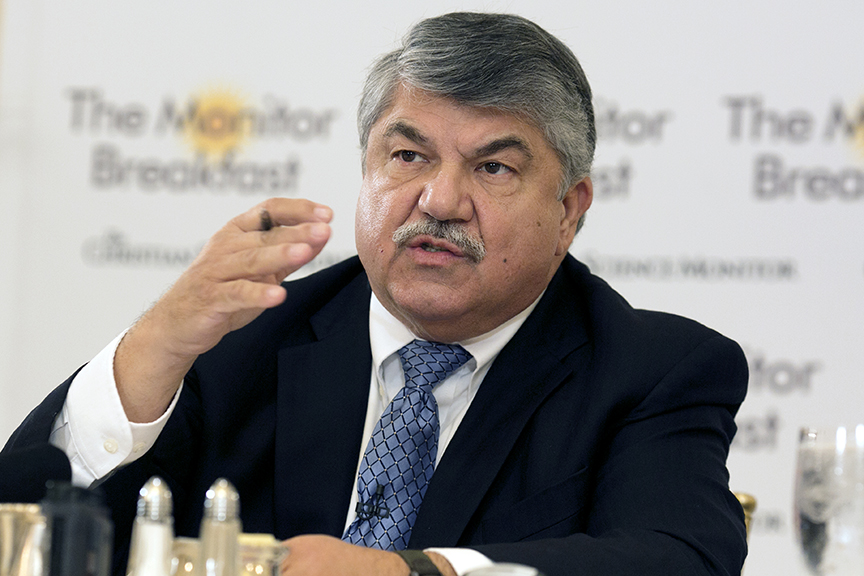 AFL-CIO President Richard Trumka today delivered the following remarks at the Christian Science Monitor's annual Labor Day breakfast:

Good morning. Thank you to the Christian Science Monitor for hosting this breakfast. And thank you all for being here. Happy Labor Day!
The thoughts and prayers of the entire labor movement are with the people of Houston today. Our unions in Texas and across the country are mobilizing to help provide the assistance and raise the resources necessary to help that region rebuild and recover. We continue to stand in solidarity with our brothers and sisters in the Gulf Coast.
As I begin, I also want to say a word about the job you do and the service you provide. Whether it's covering a hurricane or an election, our democracy cannot survive without a free and fair press. Your access and credibility are being threatened by this administration and I just want to say how wrong I think that is. At the AFL-CIO, we are proud to represent workers in media and know firsthand the incredible dedication and sacrifice of America's journalists. With all that said, feel free to grill me and I will fire right back. That's how it's supposed to work.
Labor Day is an opportunity to both recognize the achievements of working people and identify areas for improvement.
This year, we took a closer look at the tension between work and life, an issue that has always been a top concern of the American labor movement.
Today, work and time off are badly out of balance.
You've each received a copy of our new report that we are releasing for the first time here today: "Laboring on Labor Day."
Our survey found a nation overcome by work, as more and more Americans have hardly a moment to savor family, friends or relaxation.
But we also found a distinct union difference. Union members polled were much more likely to receive Labor Day off, for example, and more likely to receive overtime pay if they were scheduled to work. Workers with a union contract are also more likely to have paid time off in general.
Still, the vast majority of those polled reported working more holidays, taking fewer vacations and bringing more work home at night.
This means less freedom. Freedom to take time off when you or a loved one gets sick, rest and recharge after giving birth, attend your child's recital or sporting event, or just catch up on some household chores.
Paid leave is just one area where our economic rules have been written to benefit corporations at our expense. Over the last several decades, the labor movement has faced a corporate and political onslaught like no other in history. The result has been flat wages, skyrocketing inequality and diminishing opportunity.
When I started, I mentioned our democracy. Well, listen to this. A 2016 study showed that only 30 percent of millennials believe it's essential to live in a democratic nation. At first, that statistic startled me. But as I started to absorb it, it actually made sense. Think about what young people have been forced to endure in their formative years. Historic economic inequality. Hateful rhetoric and division. Skyrocketing student debt. For this generation, the American idea that anything is possible if you work hard and play by the rules has been virtually nonexistent. And it is continuing to slip away from workers of all ages.
Make no mistake, this crisis helped propel Donald Trump to the White House. Some working people, fed up with working harder for less—sick and tired of a political system that does not address their basic concerns—were willing to take a risk on Trump. But instead of a bold new direction, all workers have gotten is broken promises, outright attacks and dangerous, divisive rhetoric.
So my message today is this: the change voters cried out for in the 2016 campaign can be found by standing together in unions.
Simply put, union workers, empowered by the freedom to negotiate with employers—do better on every single economic benchmark. Union workers earn substantially more money. Union contracts help achieve equal pay and protection from discrimination. Union workplaces are safer. Union workers have better access to health care and a pension.
And here is the good news: the popularity of unions is rising. A Pew survey shows 60 percent of Americans support unions and that number is even higher among millennials. And in our Labor Day poll, a majority of working people said they would vote to join a union tomorrow if given the opportunity.
So let's give them that chance—free from the employer interference and intimidation that has become all too common.
Whether it's raising wages, paid leave, gender and racial equality or simply the freedom to negotiate for a better life, unions are needed now more than ever. We can help deliver the economic rules working people are hungry for. That's our focus and mission this Labor Day and beyond.
Thank you for listening. I look forward to your questions.