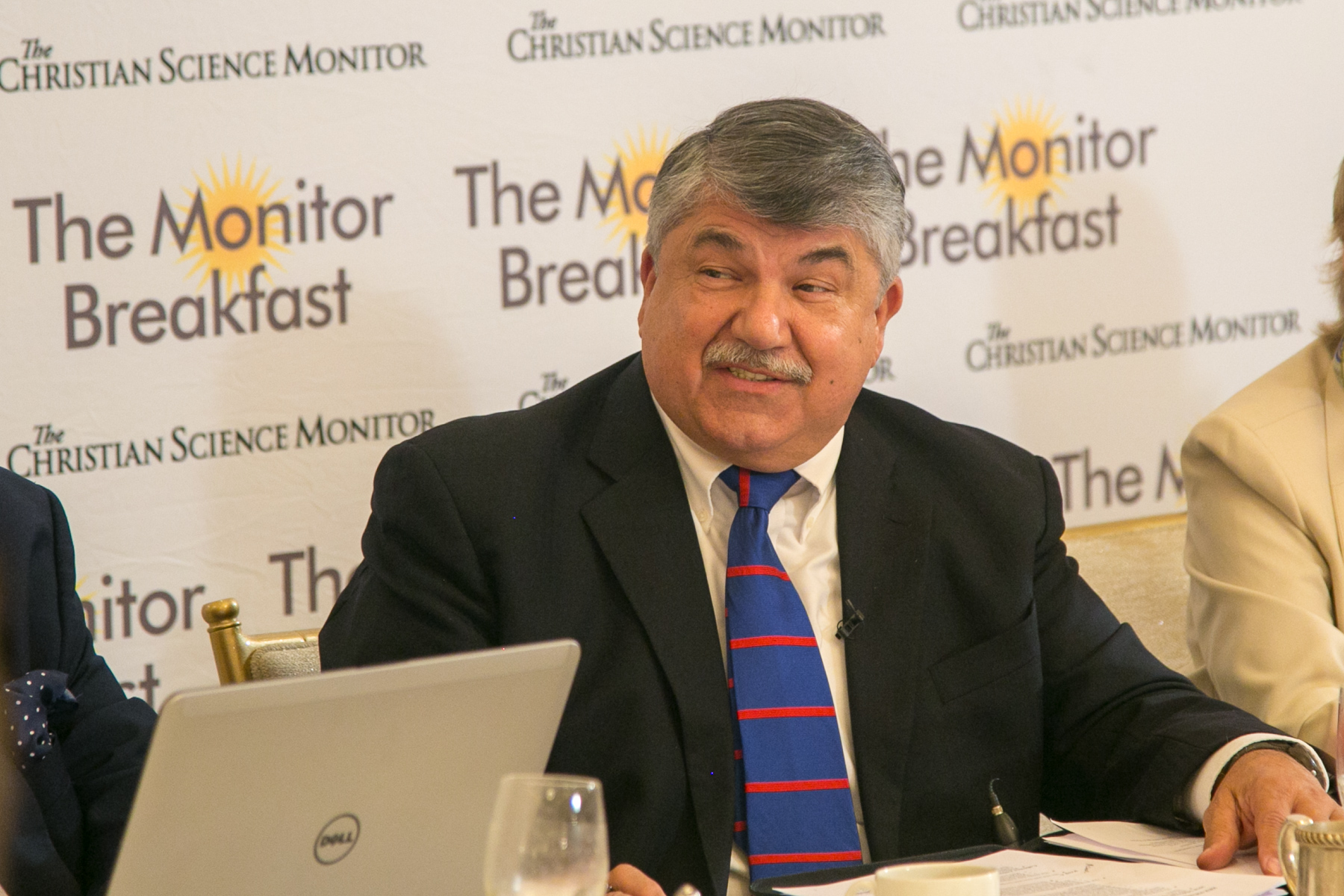 AFL-CIO President Richard Trumka delivered the following remarks at the Christian Science Monitor Breakfast: 
Good morning and happy early Labor Day. As always, thank you to the Christian Science Monitor for hosting us, and thanks to each of you for being here today.
I've been in the labor movement for more than 50 years. I've never witnessed a moment like this. I've never felt this much energy and determination from working people. I've never seen this movement so driven to take the future into our own hands.
Working people are rising to meet this moment in history because we know something is deeply wrong. Our nation is being poisoned by hateful rhetoric and divisive tactics at the highest levels of government. People of color are being scapegoated, minimized, dehumanized and told to go back where they came from. Racist dog whistles have been replaced with megaphones. Women are openly degraded and discriminated against. And America's welcome mat, long a beacon of hope for immigrants, refugees and asylum seekers, including my parents, is being bulldozed and paved over, replaced with a clear message: "you're not welcome here."
Meanwhile, the rich continue to hoard unprecedented money and power...while the people who build that wealth are working harder and longer...for less money...with less dignity...in harsher, more dangerous workplaces. Faced with the reality of historic inequality and rising bigotry that goes all the way to the top, the labor movement is offering a path forward lit by solidarity.
In 2017, more than a quarter-million people joined unions—three quarters of them under the age of 35. In 2018, half a million people walked picket lines—the most in a generation—and nearly 1,000 union members were elected to public office—ushering in a series of pro-worker legislative victories throughout 2019. 20,000 public sector workers in Nevada and 100,000 farmworkers in New York now have access to collective bargaining because of our efforts.
MIT found that half of non-union workers would vote to join a union TODAY if given the chance. That's more than 60 million people ready to secure a voice on the job. And just as the labor movement is setting the bar higher than ever before in the 2020 election, fresh research from Gallup shows approval of unions at 64 percent, a nearly 50-year high.
You see, America's workers aren't interested in slivers of change. We're not interested in gestures. We need action on a scale that will reverse a generation of corporate government that has rigged our economy to enrich a few powerful interests at the expense of everyone else. And trade is a great place to start.
President Trump's biggest campaign promise was a new NAFTA. It's a big reason why he won Michigan, Wisconsin and my home state of Pennsylvania. 
Yet his proposed replacement still falls far short of what we need. We're not looking for a tinkered, rebranded NAFTA. We need to replace it with a truly pro-worker deal that uses the United States' enormous influence and economic power to uphold the rights and dignities of working people here and across North America. 
There are a number of critical issues that we've continued to raise. But chief among them is this: the proposed new NAFTA is simply not enforceable. In particular, Mexico has yet to demonstrate that it has the resources and infrastructure to follow through on its promised reforms.
Trade without enforcement is a windfall for corporations and a disaster for workers. We want to get to yes. But, if Mexico can't ensure workers' ability to bargain for higher wages through real unions, the entire deal is a non-starter.
That's why I'm announcing today that I will be leading a delegation of U.S. labor leaders to Mexico City on Wednesday to meet personally with President López Obrador.
He's been a friend to the labor movement, and I believe he's acting in good faith. So, I'll be sharing these concerns directly with him. I'll also be meeting firsthand with Mexican workers to hear their concerns, hopes and experiences. 
We need President López Obrador to show us how Mexico will guarantee the right to raise wages through free and democratic unions. If that doesn't happen, working people across North America will continue to suffer.
At this point, I believe it's been made clear that without the support of the labor movement—in the United States, in Mexico and in Canada—the new NAFTA will meet the same fate as the TPP.
It's also clear that while we can't fix the economic rules if we don't fix NAFTA, we also can't fix the rules if we only fix NAFTA. In 2019, 2020 and beyond, the American labor movement will be engaging in a full court press to win a wide range of economic policies that advance good jobs, higher wages, great benefits and the freedom to form a union, starting with passage of the PRO Act, the most aggressive labor law reform since the National Labor Relations Act. 
Working people are fighting every day, with every ounce of energy we have, to reclaim what's rightfully ours. This Labor Day, we aren't going to settle for anything less than what we deserve. 
With that, I'd be happy to take your questions.