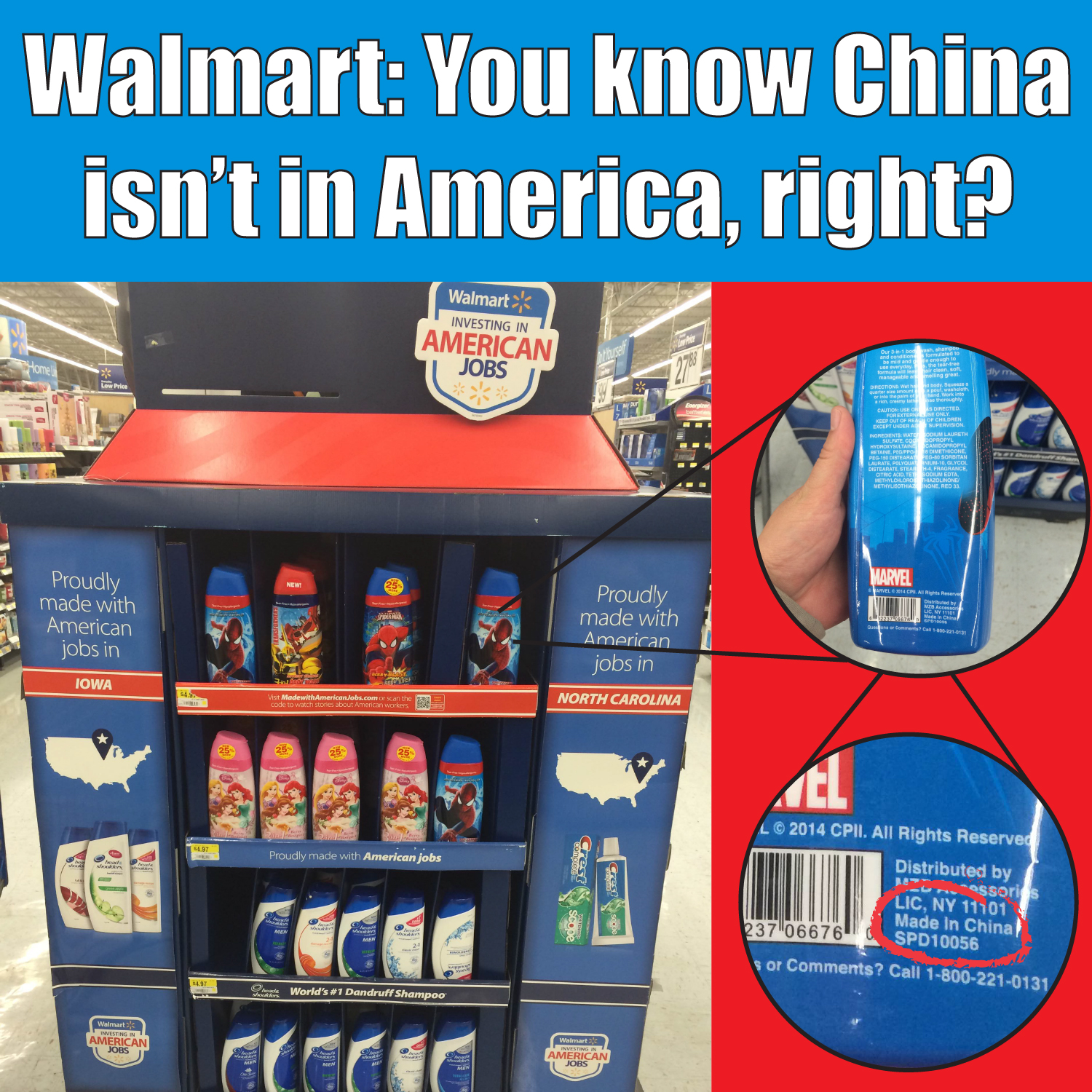 Walmart is hosting a manufacturing summit in Denver this week as part of its new program to supposedly invest in products made in America for its stores across the country. The retailer is claiming its new plan will invest $250 billion over the next decade and create 1 million jobs. We're not buying it.
AFL-CIO President Richard Trumka addressed Walmart's summit and announcement:
But workers will not benefit from a Walmart-ification of our manufacturing sector. Jobs in the Walmart model won't restore America's middle class or build shared prosperity given the company's obsession with low labor costs and undermining American labor standards. And the company's 'commitment' to American manufacturing is meaningless unless it actually increases the proportion of its products that are American-made.
Here are five reasons why Walmart's plan is nonsense:
1. The whole thing is misleading. When you dig deeper, you find that all Walmart is doing is counting the company's natural growth as "new" investment. If the company maintains its current percentages of U.S.-sourced goods and continues to grow at the same rate as it has the last three years, $262 billion will be spent on U.S.-made goods anyway without Walmart making any changes or doing anything new. Doing a little less than what you've been doing and calling it "progress" isn't exactly admirable.
2. As Scott Paul of the Alliance for American Manufacturing notes, Walmart's altruism doesn't quite stand up to scrutiny:
…in some cases—the economics now favor "reshoring" of work back to the U.S., due to an emerging domestic energy cost advantage, rising wages in Asia, and wage stagnation in the U.S. (which Walmart might know something about). And don't forget to consider the challenges that come from outsourcing: supply chain disruption, quality and inventory control issues, intellectual property theft, and high shipping costs.
3. Walmart is the biggest importer in the United States and it has been increasing how much it imports every year. The company now imports 2.5 times as much as it did in 2002. Walmart should make a solid commitment to cut back on its growth in imports, after decades of massive increases, to create a real net gain for American workers.
4. Walmart is off to a rocky start helping create U.S. manufacturing jobs. In the first year of the new plan, Walmart created only 2,000 new jobs, putting it way behind schedule toward reaching that goal of 1 million new jobs.
5. As the largest private employer in the nation, Walmart should start with itself to create real change for America. At the rate Walmart workers are paid, they won't be buying many U.S.-made products or imports. Walmart must invest more in its own workforce if it wants a "buy American" strategy to succeed.
Walmart cashiers make, on average, less than $25,000 a year. An April 2014 study by Americans for Tax Fairness estimated that subsidies and tax breaks for Walmart and the Walton family cost taxpayers approximately $7.8 billion per year, including about $6.2 billion in assistance to Walmart workers due to low wages and inadequate benefits.
Trumka concluded:
This initiative seems like an attempt to change the conversation from the need for Walmart to improve jobs for its 1.4 million retail workers in the United States. If Walmart is truly committed to rebuilding the American middle class, it can start with its own workers, most of whom make less than $25,000/year and struggle to make ends meet.
Walmart should use its two-day summit to prove the company is committed to real and substantive change and an end to corporate whitewashing.