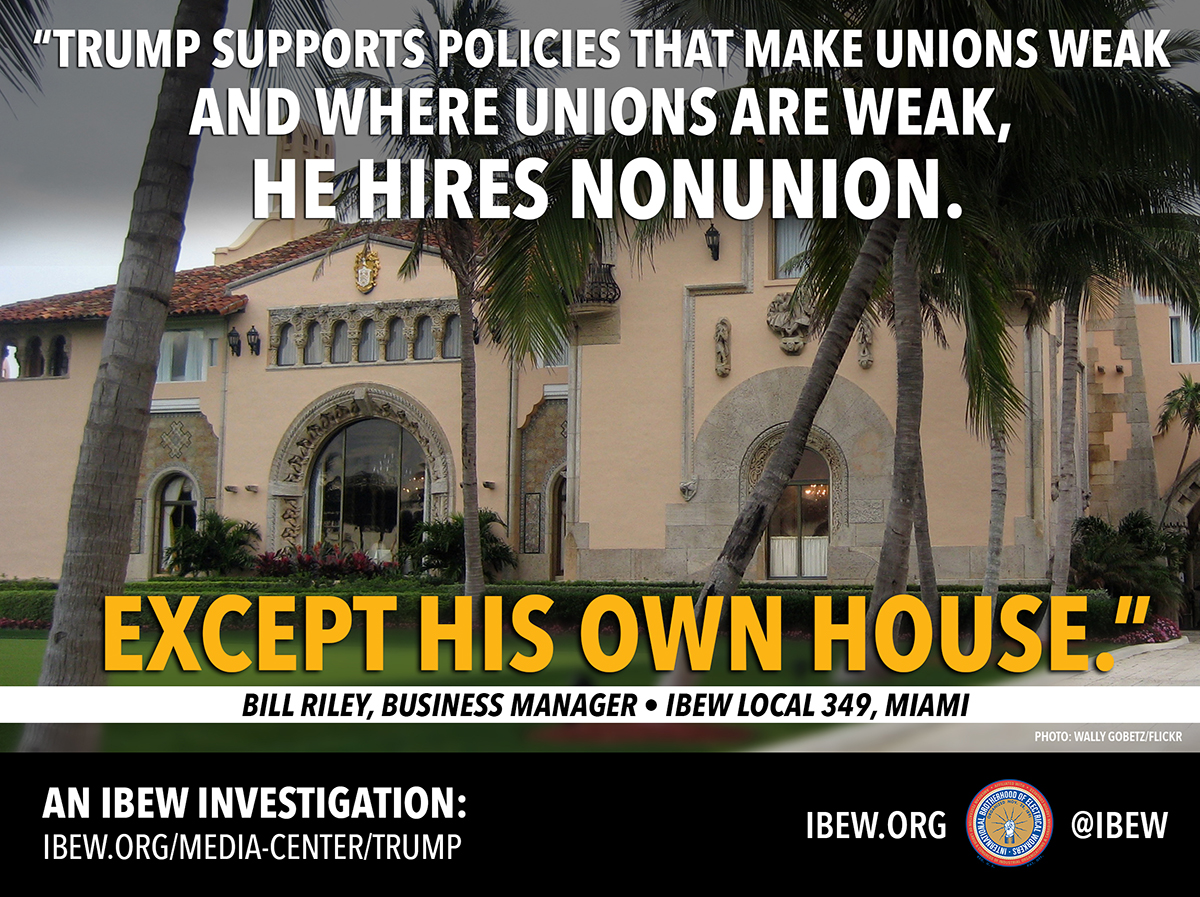 Donald Trump has admitted before that when he has a choice between union and nonunion labor for his construction projects, he'd go with nonunion labor. Just how often was that? A new report from the Electrical Workers (IBEW) reveals some figures about his dealings with IBEW contractors.
From the IBEW investigation:
A review of the presumptive Republican presidential nominee's projects reveals that he hires union when project labor agreements or dominant market share forces him to. But more than 60% of his projects developed outside New York City and Atlantic City—which includes most of his recent projects—were built nonunion. When you exclude developments with project labor agreements, that number jumps to nearly 80% built nonunion.
Except for his own house.
Trump has developed or licensed his name to eight projects in Florida, for example. The only one using IBEW workers is his palatial home and private club in Palm Beach. "For everything he sold to other people, he went nonunion. But for his house, he went with us," said IBEW Local 728 Business Manager Dan Svetlick. Svetlick says it's something he's seen with other billionaires like Trump. When it comes to their own homes or the homes of their family members, "They want that to last," he said.
Here are 10 other key facts from the IBEW report:
1. According to analysis of lawsuits filed against him and his companies, when union contractors were hired, Trump developed a reputation for stiffing some, delaying payment to others and shorting workers on overtime and even minimum wage.
2. USA Today found 60 lawsuits against Trump for not paying his bills on time, including by a dishwasher in Florida, a New Jersey glass company, a carpet supplier, plumber, painters, 48 waiters, dozens of bartenders and a real estate broker.
3. Trump has been cited for 24 violations of the Fair Labor Standards Act.
4. Trump-associated properties and companies have filed for bankruptcy often: Trump Taj Mahal (1991), Trump Plaza and Trump Marina (1993), Trump World's Fair and Casino (1999), Trump Hotels & Casino Resorts (2004) and Trump Entertainment Resorts (2009). In each of the bankruptcies, unpaid contractors were sent to the back of the line for repayment and often received only pennies on the dollar for what they were owed.
5. Lawyers who represented Trump in lawsuits for non-payment sued Trump for not paying them.
6. Since 1980, more than 200 mechanic's liens have been filed against Trump properties for nonpayment.
7. According to former Trump Plaza President Jack O'Connell, Trump would negotiate the best price he could, but when it came time to pay the bills, Trump would say: "I'm going to pay you, but I'm going to pay you 75% of what we agreed to." It was known as the "Trump discount," according to The Wall Street Journal.
8. Trump continues to stonewall unionized casino and culinary employees looking for their first contract at the Trump International Hotel in Las Vegas.
9. Most of Trump's recent projects have been in anti-union and "right to work" states. Where the law is different, his choices are different: "For every union-built development outside of New York and Atlantic City, Trump built nearly two nonunion, and if there is no PLA, Trump has hired union workers once for every four projects that go nonunion."
10. Trump Tower, where he announced his presidential campaign, was built on a site cleared by undocumented immigrant laborers from Poland. A lawsuit was filed against Trump that dragged on for nearly two decades—he didn't reach a settlement with the working people who did the job until 19 years later. The U.S. District Court for the Southern District of New York wrote: "No records were kept, no Social Security or other taxes were withheld, and they were not paid in accordance with wage laws. They were told they would be paid $4.00 or in some cases $5.00 an hour for working 12-hour shifts seven days a week. In fact, they were paid irregularly and incompletely, sometimes with [the subcontractor's] personal checks, which were returned by the bank for insufficient funds." Employees complained to the press of working in "choking clouds of asbestos dust without protective equipment." The District Court concluded that Trump "knew the Polish workers were working 'off the books,' that they were doing demolition work, that they were nonunion, that they were paid substandard wages with no overtime pay and that they were paid irregularly if at all."