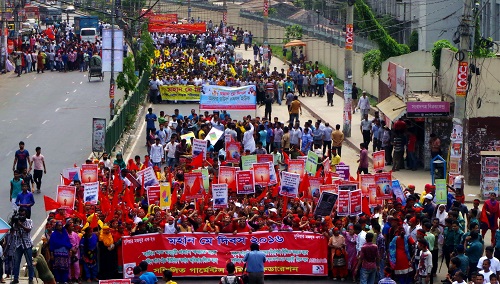 Nearly five years after the torture and assassination of Bangladeshi labor leader Aminul Islam, the country's garment-sector employers and the government continue to persecute workers who try to exercise basic rights. In the three weeks since a December strike to protest the paltry $68 per month minimum wage, garment employers and the government have again shown their hostility toward workers and their rights. At that wage, workers in Dhaka would need to spend 60% of their income solely to rent substandard housing in a slum, leaving little to live on in a city about as expensive as Montreal (where the minimum wage is more than ten times higher).
Initially, employers and the government responded to the strike by closing 60 factories on Dec. 20 and deploying hundreds of police to the area. After the Bangladesh Garment Manufacturers and Exporters Association (BGMEA) ordered owners to reopen factories on Dec. 26, employers fired and suspended more than 1,600 workers for their alleged involvement in the unrest. Labor leaders and activists in Bangladesh and abroad demanded the reinstatement of all workers.
Instead, both employers and government responded with increased repression. Since Dec. 21, at least 15 union leaders and workers' rights advocates have been detained or arrested and 11 individuals remain in police custody. At least two of these have been beaten, and at least one was threatened with death. Clearly, the BGMEA and the government have the power to end these abuses immediately. Instead, garment employers and their association, exercise their considerable political power (at least 25 members of parliament are garment employers!) to demand that the government repress any worker or labor activist attempting to organize or represent workers' interests. And the government delivers quickly on this request.
For the past several years, Bangladesh has become notorious not only for its poverty wages, but also its harsh treatment of workers and indifference to the working and living conditions they face. In the near five years since Aminul Islam was murdered, more than 1,200 garment workers lost their lives at now infamous dangerous workplaces such as the Tazreen Fashions factory and Rana Plaza. Thousands more were gravely injured. Those directly responsible for these day-to-day working conditions in thousands of factories are rarely held accountable, yet the workers and labor activists who are trying to build a movement to improve living and working conditions are immediately arrested, beaten and charged as security threats under a broad law from 1974.
While some brands have recently written to the government calling on it to end the detentions and drop all charges, the global brands that profit from these wages, conditions and human rights violations have been ineffective in bringing real change to workers who produce for them. Yet the fast fashion business model rolls on and profits roll in. For more than 20 years, voluntary corporate-led programs to monitor and improve conditions in global supply chains have failed.
Even after years of international criticism, the Bangladeshi government regularly refuses to register unions. In 2016, the Joint Directorate of Labor rejected 50% of union registration applications. Similarly, employers refuse to negotiate with workers where a union does exist, even though workers forming a union and negotiating their interests provide a solution to these conflicts and would make development in Bangladesh more sustainable. Unfortunately, less than 1% of garment factories in Bangladesh have a collective bargaining agreement.
The AFL-CIO calls on the following to act:
The U.S. government must maintain its current suspension of GSP benefits to Bangladesh.
The Bangladesh government must stop using national security/anti-terrorism laws to criminalize trade union activity and release arrested trade union activists.
The Bangladesh government must enforce its own laws with regard to registering unions.
The Bangladesh government must convene the minimum wage board and union federations with real representation in the garment industry and must negotiate on behalf of the workers.
The BGMEA and all garment manufacturers must actually negotiate collective agreements with the unions and workers in their workplaces to address wage and other issues.
Finally, the AFL-CIO urges the European Union to seriously review its current GSP program with Bangladesh since its market is the largest for garments from Bangladesh.