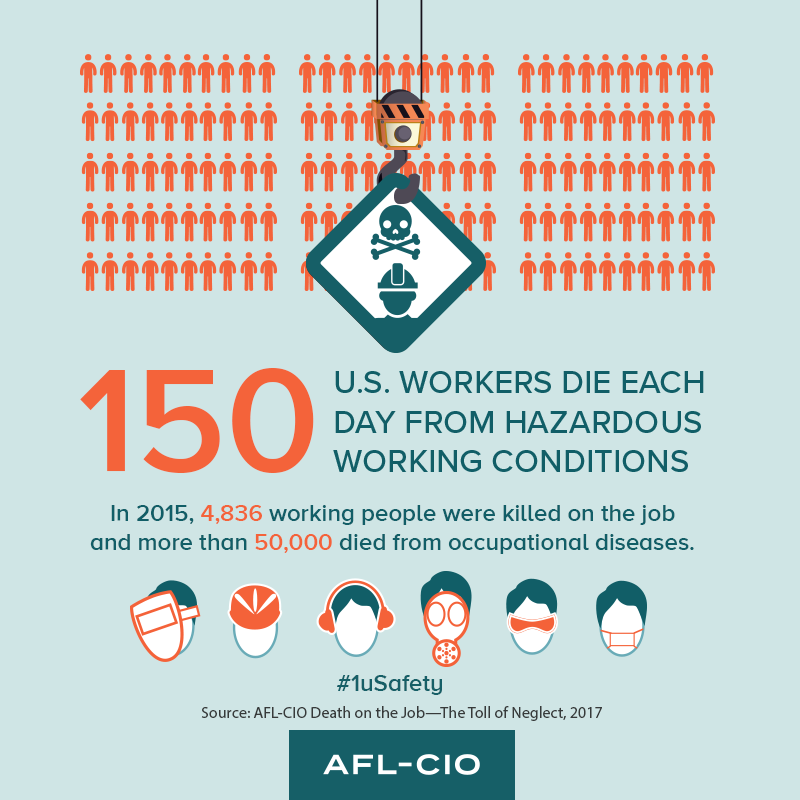 Today, on Workers Memorial Day, people all over the world remember workers who were killed, injured or made sick by their jobs. It's also a day we commit to fighting for safer working conditions. Most importantly, it is the day we remind ourselves that safe jobs are every worker's right.
In the United States, 150 workers die each day from job injuries and diseases and millions more suffer serious injuries because of their work. But no person should have to sacrifice his or her life and livelihood for a paycheck. This is why communities hold vigils, rallies, marches and other events to mourn the loss of loved ones and rally for stronger safety and health job protections.
Find a Workers Memorial Day event near you.
In 2015, 4,836 workers died from traumatic injuries such as those related to falls, machines and fires. At least another 50,000–60,000 workers died from occupational diseases that are caused by chemicals, dusts, fumes and other toxic agents. Commonsense safeguards would have prevented these deaths, but winning these protections for workers is incredibly challenging. Big Business continues to attack any gain for working people.
Read about the state of workplace safety and health in the 2017 edition of the AFL-CIO Death on the Job: The Toll of Neglect report.
Working people and their unions have won stronger safety and health protections. Most recently, unions celebrated the release of the final OSHA silica standard, the final OSHA beryllium standard, new safeguards to protect construction workers in confined spaces and from cranes and derricks, stronger protections for workers who report injuries to OSHA, several new mine safety rules, and many more. Since January, the Trump administration already has begun rolling back these protections, and has threatened to remove many more and prevent new safeguards from ever being issued. Recently, Republican leaders in Congress have threatened to remove important protections for first responders.
Unions fought for laws that protect hardworking people in the United States over the corporations that profit from the labor. Under these laws:
Workers have the right to refuse unsafe work, without fear of retaliation.
Workers have the right to report unsafe working conditions, without fear of retaliation.
Workers have the right to report work-related injuries and illnesses, without fear of retaliation.
Employers are required to make sure workplaces are free from hazards. 
We will continue to fight for stronger safety and health protections, but this year we also are defending new attacks on workers' rights. And we will keep pushing forward. There is much more work to be done to prevent people from becoming sick or injured or being killed on the job.
On Workers Memorial Day, we remember all working people who have lost their lives, have been maimed or are fighting chronic disease because of the work they do. We join together to mourn for the dead and fight for the living. "Working people should not have to risk their lives to make a living and support their families," said AFL-CIO President Richard Trumka.
Safe jobs are every worker's right.
Find more information on Workers Memorial Day and the digital toolkit with infographics from the report.