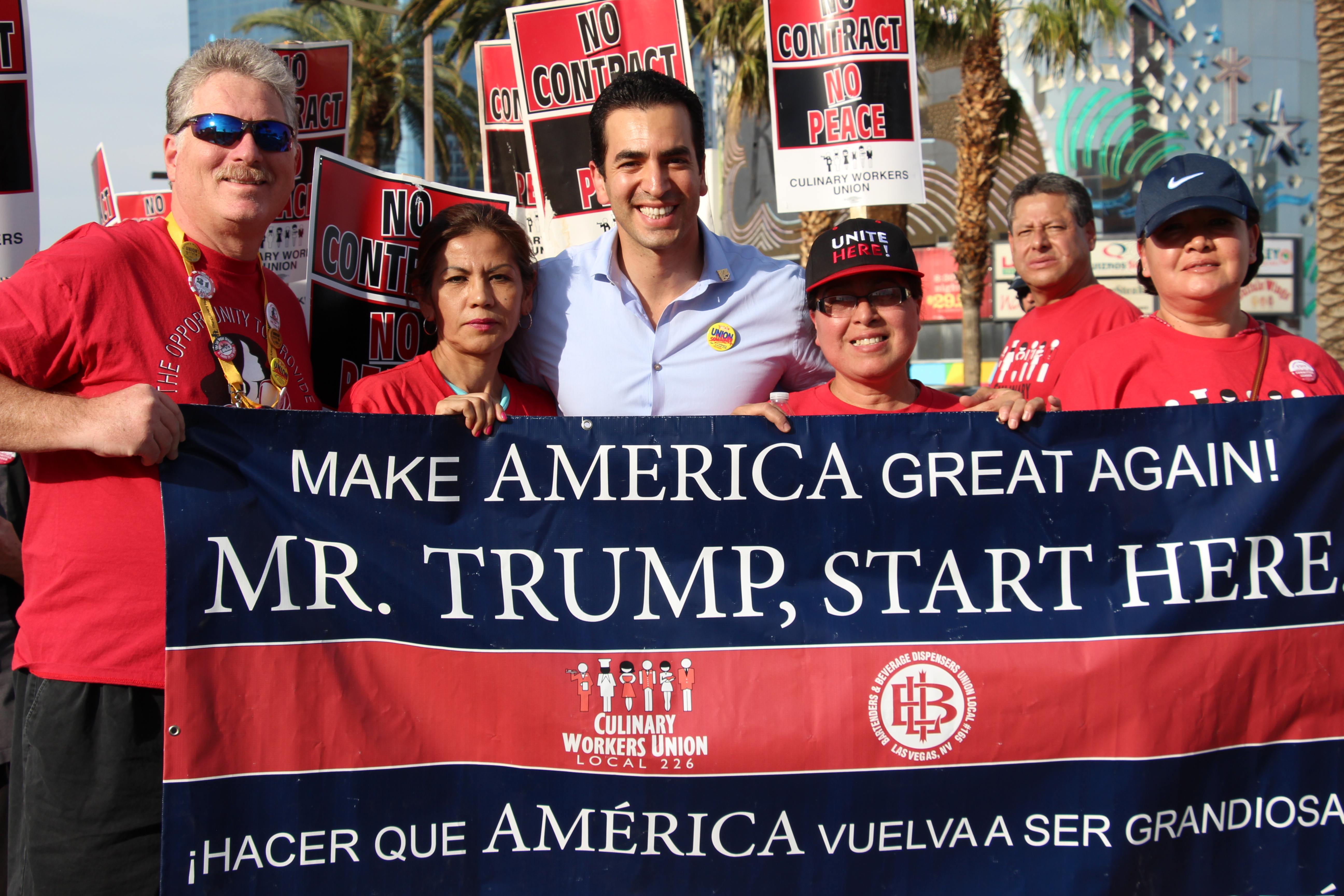 Maina Kiai, former U.N. special rapporteur on the rights to freedom of peaceful assembly and of association, led a mission to the United States in 2016 and documented the obstacles that working people confront when they exercise their freedom to join together in union. His findings are damning.   
The overarching story that surfaces in the report is that wealthy corporations and corporate lobbyists are actively blocking working people's freedom to join together in union on the job and that U.S. legal framework "provides few incentives for employers to respect workers' rights." According to Kiai, these are some of the intimidation tactics the wealthiest 1% use to chill the exercise of rights are fully legal: 
When facing a union organizing drive, 75% of employers hire consultants specializing in "union avoidance." These consultants openly boast of their success in suppressing unionization. This is a $4 billion industry dedicated to taking away people's freedom to join together in union using strategies of fear, intimidation and misinformation.
Employers also routinely cross the line and engage in unlawful tactics to prevent freedom of association. They do so because they can—with little or no consequence.
Employers who fire people for engaging in concerted action or threaten to shut down the workplace if working people decide to stand together rarely face consequences, and when they do, the remedies are long delayed and notoriously weak.
Sadly, rather than working to strengthen this legal framework, many government officials collude with corporate CEOs and employers to dismantle the power of existing unions and keep new ones from forming. The special rapporteur was alarmed to learn that Mississippi and other states openly court companies by touting the lack of the freedom of people to join together in union and ability to exploit working people. 
In addition, 28 states have enacted "right to work" laws, which are deliberately crafted to take away people's freedom to join together and negotiate. By weakening people's workplace freedoms, they contribute to unfair labor practices and violate international human rights law that require governments to protect the exercise of rights. Corporate CEOs and lobbysists have contributed to the steep decline of voice on the job and perpetuated income inequality, concentrating wealth in the hands of the rich and powerful few who are rigging the rules in their own favor and weakening our democracy.
Earlier this year, Kiai spent more than two weeks in several U.S. cities researching workers' rights, meeting with Nissan workers in Canton, Miss.; United Steelworkers (USW) members at Novelis in New York, and Asarco in Arizona; Retail, Wholesale & Department Store Union (RWDSU/UFCW)-member carwash workers in New York City; UNITE HERE hotel workers in New York and Arizona; and AFT-member teachers in Louisiana.
The report also highlights the many structural remnants of the legacy of slavery in our country, which can be clearly seen in the gaps in our labor protections. Millions of working people are excluded from the basic protections of our labor law, including people who engage in agricultural and domestic work.  This work, once done by people who were enslaved, is now predominately done by immigrants, many of whom are undocumented. 
More than 5% of the workforce in our country lack formal work authorization, with much higher concentrations in low-wage, hazardous industries. As the special rapporteur has noted, immigration enforcement in the United States generally takes priority over protecting labor rights, allowing employers to retaliate in ways that can lead to deportation.
The report also makes clear that just because working people may have visas, this does not necessarily mean they have rights. Guest worker programs in the United States tie workers to specific employers and allow for rampant exploitation.
On another front, the special rapporteur has made strong statements affirming that the right to strike is intrinsic to the fundamental right of freedom of association. Nonetheless, this report highlights numerous limitations to the right to strike in the United States, including prohibitions on secondary strikes and strikes by public employees, as well as the ability of employers to replace people who are on strike. In the special rapporteur's view, the permanent replacement of people who are on strike negates the right to strike, stripping working people of their strongest tool for pressing their demands.
Unfortunately, the realities for working people in the United States have not improved since the rapporteur's visit. The budget introduced by the president slashes funding for agencies responsible for defending our workplace rights, while dramatically increasing funds to arrest, detain and deport working people. Rather than addressing such profound injustices, the new administration is doubling down on enforcement strategies that scapegoat and criminalize communities of color.
The obstacles to freedom to join together in union in the United States violate international standards and norms, and undermine the most fundamental principles and rights at work. Working people had little rights before there were laws to protect them, and it was through organizing and asserting their freedoms that they created a legal framework to foster a vibrant labor movement. As that legal framework grows ever more hostile to the freedom of working people to come together and negotiate, working people must once again flex their collective muscles and find ways to rebuild their power.