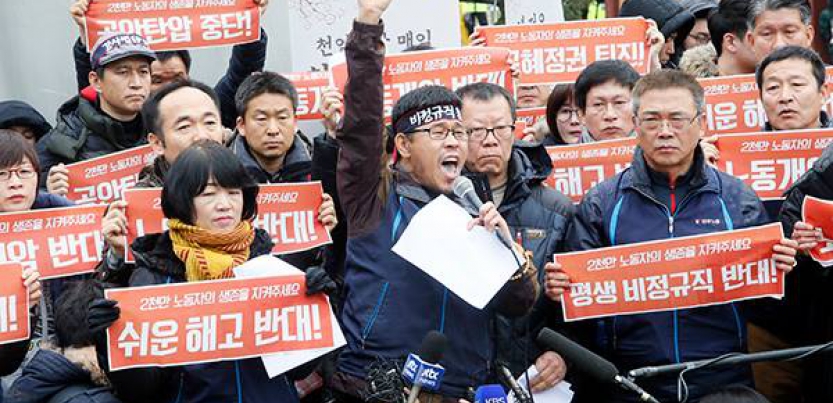 In December 2015, President Han Sang-gyun of the Korean Confederation of Trade Unions was imprisoned for defending trade union rights and fighting back against corporate corruption and the repressive government of former President Park Geun-hye of South Korea. This week, Han finally won his freedom.
Of Han's release, AFL-CIO President Richard Trumka (UMWA) said:
We are all relieved that KCTU President Han Sang-gyun has been released from his wrongful detainment that was a political act of retribution expressly aimed at punishing his role in organizing union protests. President Han represents the best of the labor movement—an advocate armed with unwavering dedication to the fight for economic justice, even in the face of personal persecution.

Across the globe, working people salute his sacrifice and welcome him home with open arms. Still, the struggle for justice will continue until we secure the release of KCTU General Secretary Lee Young-joo, who was arrested for the same organizing efforts. Her continued detainment highlights the enormous fights that lie ahead for working people, and the release of Han reflects our capacity to ultimately win.
In 2017, AFL-CIO awarded Han with the George Meany–Lane Kirkland Human Rights Award for his activism on behalf of working people. Han's career is noted for perseverance in the face of anti-democratic repression and militant action against long odds.
Starting as a student activist, Han later helped organize a union at the auto manufacturing plant where he worked. In 2008, he was elected chair of his union. His efforts to fight layoffs at his company led to a 77-day occupation of the plant for which Han was sent to prison for three years. After his release, he continued to fight for working people with a 171-day sit-in near the plant. After the conclusion of the sit-in, hundreds of jobs were saved.
In 2014, KCTU held it's first direct vote to choose their president and Han won. During his tenure in office:
Union activists have been at the forefront of the fight for social justice in South Korea. Workers have mobilized against anti-worker labor legislation and government corruption in a series of massive peaceful demonstrations. President Park frequently responded to dissent with police brutality, mass arrests and harsh jail sentences targeted at leaders, including President Han, who bravely continued to organize. The Korean labor movement and civil society eventually forced the ouster of President Park, who later was charged with bribery, abuse of power and other crimes....

After the impeachment and trial of President Park Geun-hye, the Korean labor movement helped usher in a new, more worker-friendly administration under President Moon Jae-in. However, its fight for justice is ongoing. Many activists still are imprisoned and Korean workers continue to struggle in the face of regressive labor laws and a lack of accountability from Korea's major corporations.