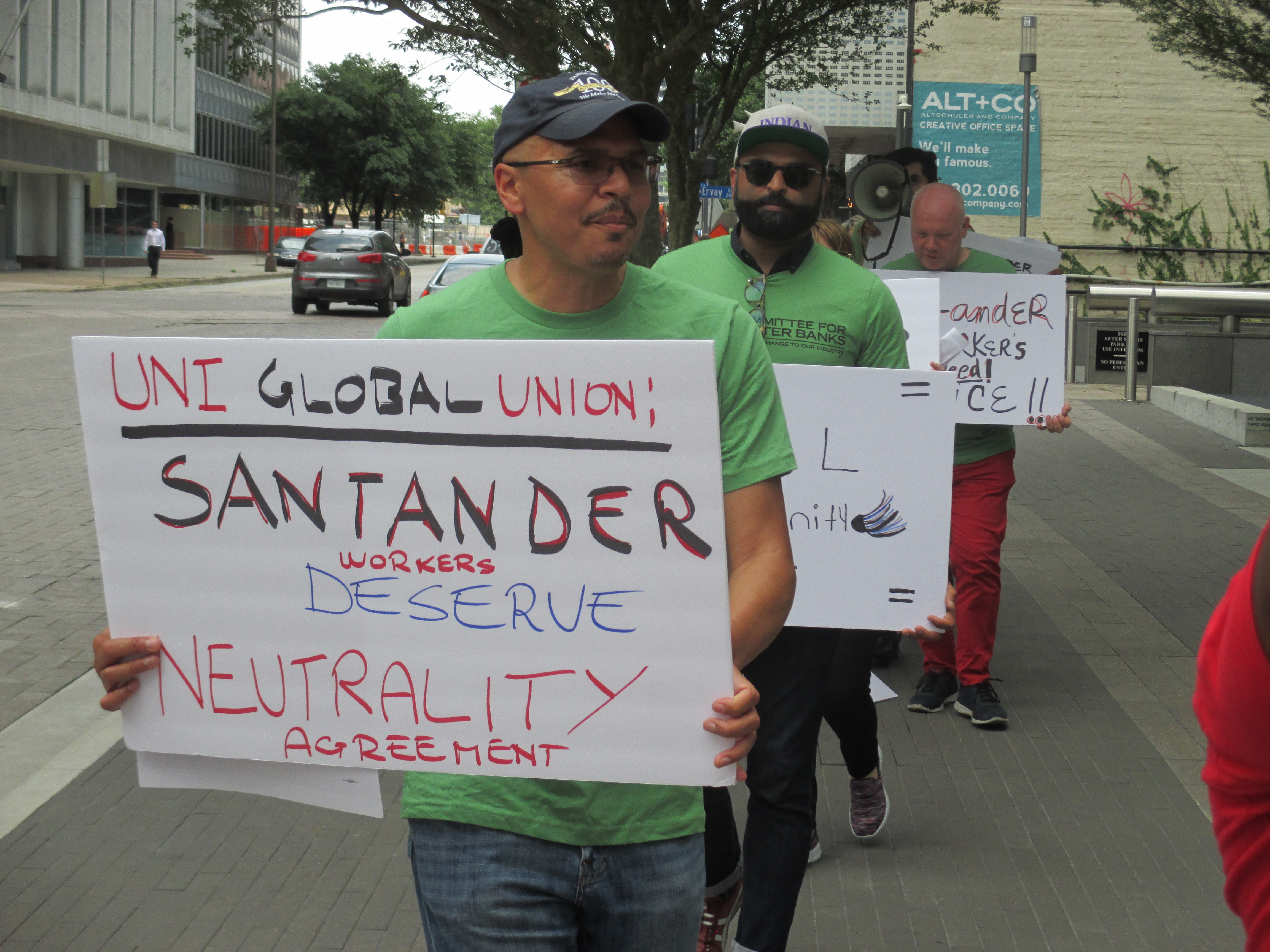 The Texas heat would not be enough to deter a powerful and broad coalition of consumer groups, unions and international representatives with the UNI Global Finance Union from delivering a powerful message to Santander Consumer USA at their annual shareholders meeting: Listen to your workers and stop practices that lead to racial discrimination in vehicle lending. According to reports by consumer advocate organizations, dealer interest rate markups on vehicle loans have resulted in racial disparities for African American and Latino borrowers compared to similarly situated white borrowers.
Jerry Robinson, a Committee for Better Banks member and retiree, described his experience at Santander: "Our job was to get people who were already upside down on their loans back in their cars by making them pay more fees." In describing his experience in another department, he told the CEO that he "saw how auto dealer inflated the costs of loans. I saw first-hand how customers paid for products that they did not know were optional. Sometimes our customers were sold GAP insurance that they did not know they could decline. Practices like these added costs to their loans and made their monthly payments too high."
Leaders of unions in the finance sector from Norway, Spain, Brazil, and the global union federation, joined members of the Committee for Better Banks, CWA, the AFL-CIO and local community organizations in Dallas to participate in the shareholder meeting and directly bring this message to the company's CEO and board of directors.
Joining the workers in sending this message was a powerful coalition of consumer and advocacy groups from across the country who shared concerns over the company's lending practices and the risk of racial discrimination in auto lending. The letter included support from the NAACP, Americans for Financial Reform, the National Association of Consumer Advocates, Consumer Action, the Center for Responsible Lending and many other groups with long-standing records of standing with consumers and against racial disparities. The letter complemented a shareholder proposal that the AFL-CIO introduced that asked the company to prepare a report on the risk of racial discrimination in vehicle lending.
Pål Adrian Hellman, president of FINANSFORBUNDET (the national finance workers' union of Norway), told the CEO and board of directors that he knew first-hand that "workers in Dallas and Fort Worth on several occasions have tried to meet management and discuss their collective concerns."
Outside of the shareholder meeting, workers and community leaders rallied in support of the participants of the shareholder meeting, and stood with workers as they continue their effort to build a voice and organization at Santander that can make a difference on these issues. Peggy Spencer, a Santander employee, said: "We have so many calls coming in today; we can't get up from our desks. We don't have time to drink water or go to the bathroom. I really need more time to help customers when I'm on the job. In 2016, I decided to join the Committee for Better Banks. I joined because want to help make Santander Consumer a better place to work."
Spencer and the Committee for Better Banks will continue to do all they can to build that voice, and hope that allies from across the region, country and world will continue to stand with them as they fight to make improvements at the company.