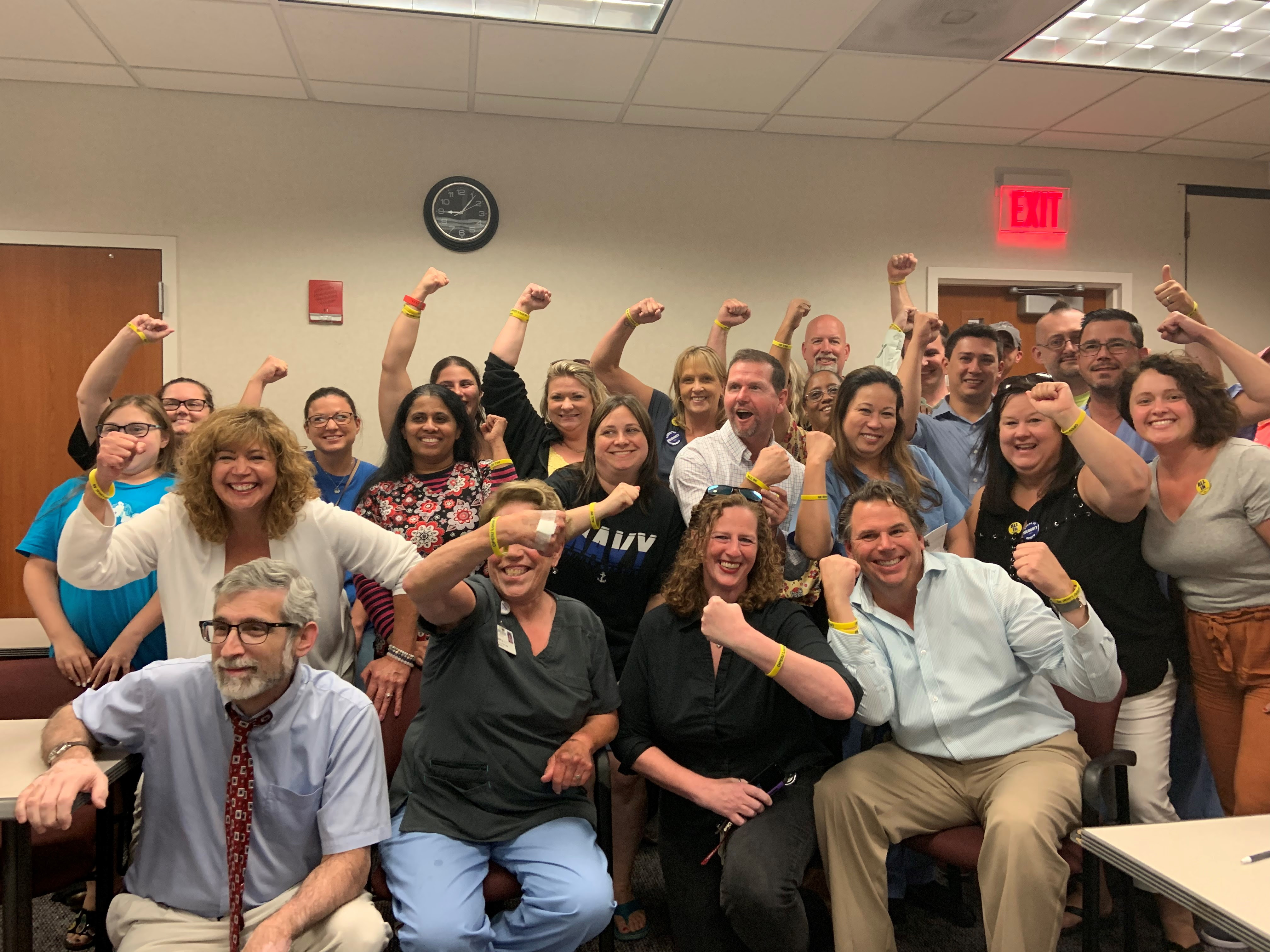 Our latest roundup of worker wins begins with nurses banding together to make patients' lives better and includes numerous examples of working people organizing, bargaining and mobilizing for a better life.
UChicago Medicine Ingalls Registered Nurses Organize: Registered nurses at UChicago Medicine Ingalls voted 72% in favor of joining National Nurses Organizing Committee/National Nurses United (NNOC/NNU). The hospital is in Harvey, Illinois, a suburb of Chicago. Cathy Vaughn, an RN in the special care nursery, said: "Nurses at Ingalls are so excited to have won a seat at the table! We are ready to begin advocating to improve standards for our patients. This victory means that decisions about patient care are made at the bedside, not in the boardroom."
El Paso Nurses Organize with NNOC/NNU: Registered nurses at the Providence East Campus in El Paso, Texas, vote to join NNOC/NNU, in an election certified by the National Labor Relations Board. Nearly 500 nurses will now be represented by NNOC/NNU. RN Lena Gonzalez said: "This victory is positive on so many levels. We won because nurses from throughout the hospital are ready to stand united as strong patient advocates. We know we can accomplish much more together as union members than any one individual ever could." 
Google Contract Workers in Pittsburgh Vote to Join USW: Contract workers for Google in Pittsburgh voted to join the United Steelworkers. This is one of the first victories for the union, which is seeking to organize at Google and other tech companies. The Google workers say that the company does not provide sick days, pays substandard wages that aren't connected to inflation and that workers are forced to take vacation days during national holidays.
Kaiser Permanente Workers Avoid Strike After Reaching Tentative Agreement: Working people at Kaiser Permanente have won a new collective bargaining agreement after 85,000 employees from 11 unions threatened a nationwide strike. The new four-year deal comes after five months of bargaining. The tentative agreement, which must be approved by the members of the various unions, provides annual pay increases and new job training and educational opportunities for workers.
Fred Meyer Workers in Portland Win New Contract After Boycott: Portland employees at Fred Meyer stores have reached a tentative agreement with management. The workers, represented by United Food and Commercial Workers Local 555, still have to ratify the contract. In a statement, the union said: "Our boycott against Fred Meyer was highly effective, due to your hard work in building relationships with your communities, who stood strong and proud with us."
Baltimore Symphony Orchestra Members Agree to One-Year Contract: In advance of the concert season, members of the Musicians Association of Metropolitan Baltimore (Local 40-543 of the American Federation of Musicians) and the Baltimore Symphony Orchestra reached an agreement on a one-year contract. Orchestra members had engaged in a 14-week work stoppage, during which time the musicians were locked out and did not receive paychecks. Local 40-543 Secretary-Treasurer Mary C. Plaine said: "Baltimore Symphony Musicians and Local 40-543 are grateful to all of our AFM sisters and brothers who through their verbal and financial support helped us reach this agreement. It is good to know we can count on our colleagues as we continue our fight to preserve and grow the artistic legacy of the BSO."
After a Year of Negotiations, Auburn Community Hospital Workers Win Contract: Ending almost a year of negotiations, health care workers at Auburn Community Hospital, represented by AFSCME Local 3124, voted overwhelmingly to approve a new contract that solidifies health insurance and increases wages, among other benefits. Maureen Coleman, president of AFSCME Local 3124, said: "Since negotiations began last fall, it's been our priority to protect our health coverage by including it in our collective bargaining agreement. This will require ACH to negotiate the impact of any future changes to its employees' health plan with us."
Fiesta Henderson Hotel and Casino Workers Join Culinary Union: Workers at Fiesta Henderson Hotel and Casino in Las Vegas voted to be represented by the Culinary Workers Union Local 226 and Bartenders Union Local 165, affiliates of UNITE HERE. This is the seventh casino owned by Station Casinos Las Vegas to unionize since 2016. Culinary Workers Union Secretary-Treasurer Geoconda Argüello-Kline said: "We call on Station Casinos to immediately to negotiate and settle a fair contract for the workers at Fiesta Henderson, Fiesta Rancho, Sunset Station, Palms, Green Valley Ranch, Palace Station and Boulder Station."
Writers and Assistant Producers at WBBM Newsradio Agree to New Contract: News writers and assistant producers at WBBM in Chicago, WCBS in New York and KNX in Los Angeles have reached an agreement with Entercom Communications, which owns the CBS-affiliated stations. Lowell Peterson, executive director of the Writers Guild of America, East, which represents the workers, said: "This contract was won with incredible solidarity across three geographically separate stations. Together, we were able to secure a contract that makes significant financial gains and guarantees important workplace protections."
Southern California Grocery Store Workers Avert Strike After Reaching Agreement: Some 47,000 grocery store workers at Vons, Pavilions and Ralphs averted a strike after the parent companies (Albertons and Kroger Co.) of the three chains reached an agreement. The workers, represented by UFCW, had previously authorized the strike. UFCW Local 135, in San Diego, responded to the announcement: "We are proud to announce that a tentative agreement has been reached with both companies. We know the road to get here has been a long one for you and your co-workers. Your dedication to standing up for good jobs⁠—engaging tens of thousands of customers with over 200 community rallies and store actions⁠—has been the driving force behind getting a deal that you can be proud to have stood up for. Because you are part of a union family, you have a voice, and a vote. Let's make it count." The membership has since ratified the contracts.
Employees at McLaren Macomb Hospital Join OPEIU: More than 300 employyes at McLaren Macomb hospital in Mount Clemens, Michigan, have voted to join OPEIU. The vote to associate with Local 40 was successful by 172-113. The workers covered include clerical associates, couriers, critical care techs, dispatchers, lab assistants, patient access reps, patient sitters, pharmacy techs and several other classifications. Local 40 President Jeff Morawski said: "This is the proudest day in the history of Local 40. The workers' voices were heard loud and clear, and I am excited and proud to welcome them to Local 40. When workers win an election to form a union, everyone wins."
CWA Members Reach Deal with AT&T Southeast: More than 20,000 employees at AT&T in nine states have reached a "handshake deal" on a new collective bargaining agreement. CWA District 3 Vice President Richard Honeycutt said: "CWA members' spirit and solidarity over the last four days showed the company that we would not back down until they bargained with us in good faith. This was a historic strike that showed the power that working people have when they join together."
Harvard Graduate Students Reach Tentative Agreement with University: After meetings throughout the summer, the Harvard Graduate Students Union (an affiliate of UAW), reached tentative agreements on three contracts. But the graduate students say there is still work to be done. Bargaining committee member Cole M. Meisenhelder said: "On many remaining issues, the administration has told us 'we have nothing else to say.' As long as the administration refuses to negotiate over the health plan or denies student workers a neutral process for cases of discrimination or harassment, we will not be able to come to tentative agreements on these issues. This includes the creation of funds totaling more than half a million dollars to assist bargaining unit members in covering the costs of dental and dependent health care, as well as child care. As the negotiations are ongoing, we look forward to continuing to work on these important issues at the bargaining table."
Cathay Pacific Flight Attendants Vote Overwhelmingly to Join AFA-CWA: Flight attendants that work for Cathay Pacific Airlines voted by 97% to be represented by the Association of Flight Attendants-CWA. AFA-CWA President Sara Nelson said: "We are so proud to welcome our sisters and brothers at Cathay Pacific who chose to join with AFA Flight Attendants around the world. Their Cathay Cabin Crew counterparts in Hong Kong, the United Kingdom and Canada all have contracts with higher pay, benefits and job security. It's past time for these hardworking U.S.-based Flight Attendants to have a contract that lifts up good American jobs. Cathay Pacific Cabin Crew will surely enrich AFA's history that includes decades of Flight Attendants working together to raise the bar for our entire profession."