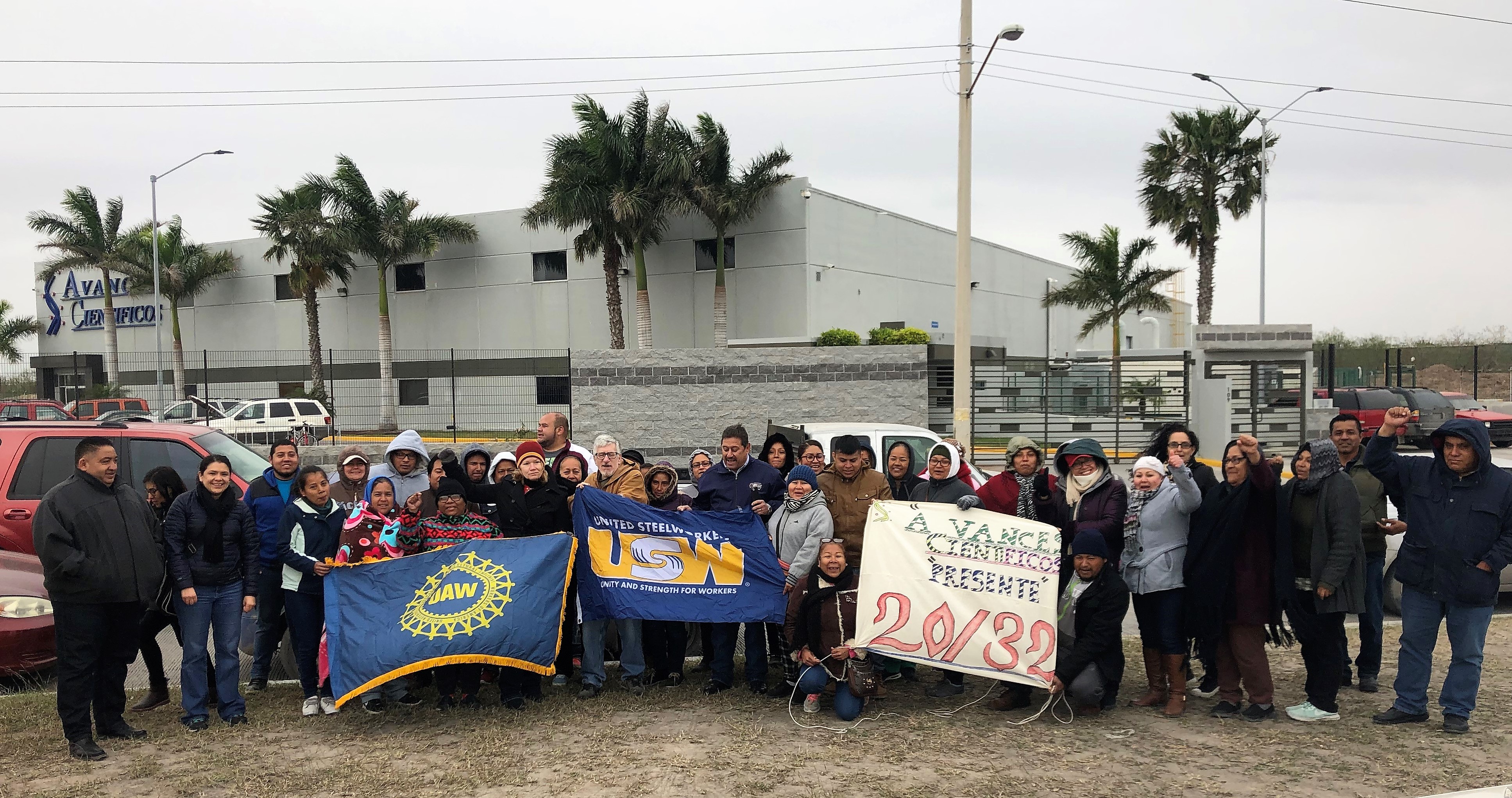 A delegation of union leaders from the national AFL-CIO, the Texas AFL-CIO, the UAW and the United Steelworkers (USW) traveled to Matamoros, Mexico, last week to support tens of thousands of factory workers who have launched a wave of strikes to demand wage increases and democratic control of their unions.
Since Jan. 25, at least 48 factories that produce auto parts and other goods for export to the United States have signed agreements to increase wages by 20% and pay a bonus of 32,000 pesos (about $1,750). This is a huge victory for the workers, most of whom make around $2 per hour. In the past week, the strike wave has spread beyond the factories to supermarkets and other employers, with all the workers demanding "20/32." The leaders of the Matamoros unions, which historically have been close to the employers, were forced to endorse the workers' demands.
The delegation visited the picket line at Advanced Scientifics, a subsidiary of Massachusetts-based Thermo Fisher Scientifics, which produces medical supplies. Some 70 workers have been camped outside the plant 24 hours a day in near-freezing temperatures.
"It's heartbreaking to see workers who make life-saving equipment treated with so little respect," said USW District 13 Director Ruben Garza. "This is what happens when we sign trade agreements like [the North American Free Trade Ageement] that have no real protections for workers' rights."
While the wage increase and bonus are a huge victory, the employers and the Confederation of Mexican Workers unions are striking back already. In the past week, as many as 2,000 strike leaders have been fired and blacklisted, despite legal prohibitions and non-reprisal agreements signed by the employers. The U.S. delegation met with fired leaders from several factories who are planning a public protest to demand reinstatement. Here are their testimonies:
"We were told we were fired because we offended the company."
"The union never helped us, they deceived us. So we had to put our own courage on the line to confront them."
"We need to be firm. I have a family, too. My greatest wish is that justice is served. I don't want just a salary, I want justice!"
"These workers—many of whom are working mothers—are fighting for the pay they're owed, for better working conditions and for respect on the job," said Texas AFL-CIO Secretary-Treasurer Montserrat Garibay. "They are using their voices, and it is time to listen. The Mexican and U.S. governments must both demand that these U.S. companies honor their agreements and stop firing and blacklisting these courageous workers."