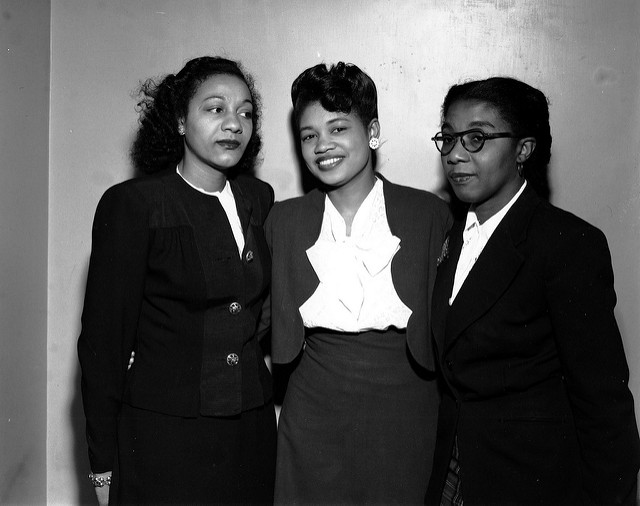 For Women's History Month, the AFL-CIO is spotlighting various women who were leaders and activists working at the intersection of civil and labor rights. Today's profile is Maida Springer Kemp.
Maida Springer Kemp was born in Panama, but moved to Harlem at the age of 7. Her mother, Adina Steward Carrington, listened to the messages of Marcus Garvey and passed the lessons she learned to her daughter, teaching her to be hopeful and to value education.
She joined the labor movement during the Great Depression, when she became a member of the Dressmakers' Union, Local 22 of the International Ladies' Garment Workers Union. Her interest in unions spiked after hearing a 1929 radio address by A. Philip Randolph. According to Springer Kemp biographer Yevette Richards, Randoph's speech helped her realize that there were larger forces that hindered working people.
In 1933, Local 22 launched a successful general strike of dressmakers. Afterwards, Springer Kemp quickly moved up the union's ranks. In 1938, she began serving on the executive board and in 1940, she became the chair of the local's education committee. She became known as "the pride of ILGWU" and Randolph began to mentor her and helped raise her profile by choosing her as one of the first African Americans to march in New York's grand union parade.
In 1945, Springer Kemp became the first black woman to represent U.S. labor overseas, when the AFL and CIO sent her as part of a group observing wartime conditions in Great Britain. Her time in England would be just the beginning of her international efforts to promote union organizing. She helped found the first women's labor movement in Turkey before becoming a key figure in establishing relationships between leaders in the emerging African and U.S. labor movements. She advised newly-formed unions in Kenya, Nigeria, Tanzania, Uganda, Ghana and other African nations and helped run a scholarship program for union members. She officially joined the AFL-CIO's International Affairs Department in 1959, a position which she held until 1965. 
From 1970 to 1973, she served as the Midwest Director of the A. Philip Randolph Institute, where she worked on voter registration and education. She also worked for the African American Labor Center and coordinated relief programs after drought struck in Africa. She later became a consultant with the Asian American Free Labor Institute and worked as a consultant and lecturer promoting women's labor rights and unionism in Africa.
She continued to promote equality for working women and supported the labor movement long after her retirement in 1981. She died in 2005 at the age of 94, leaving behind a legacy that helped improve the lives of working people around the world.