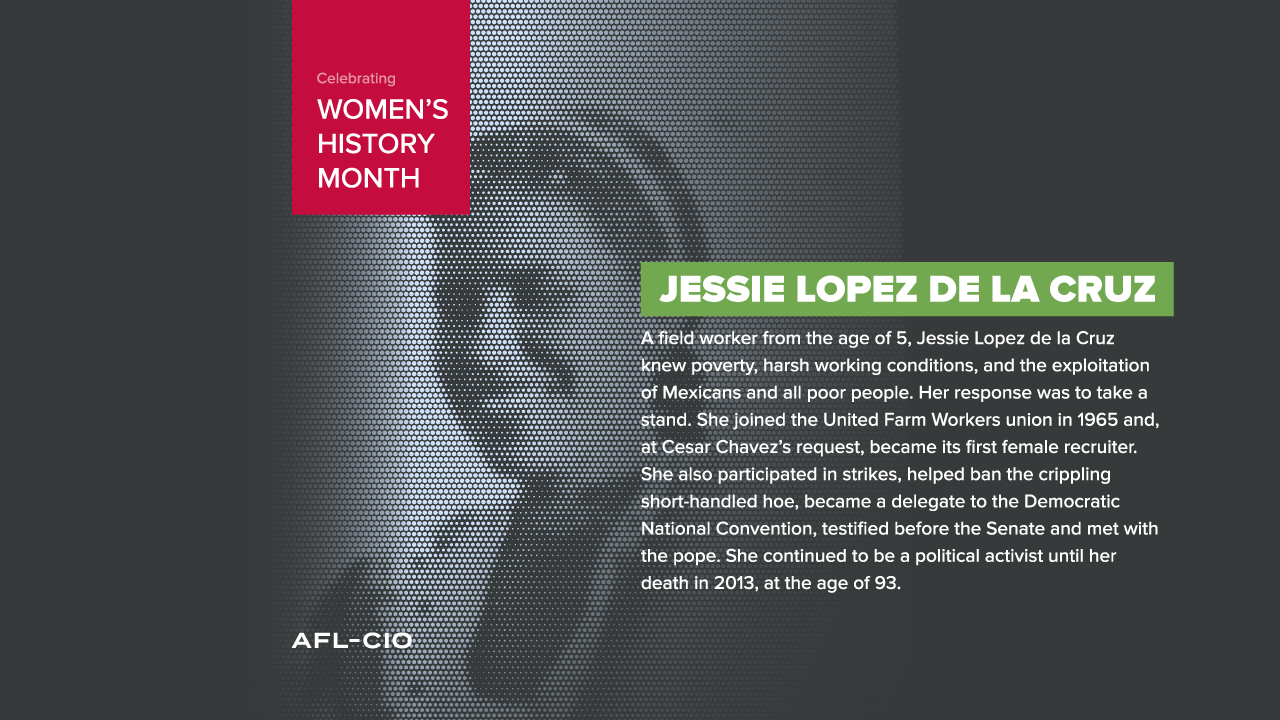 For Women's History Month, the AFL-CIO is spotlighting various women who were, and some who still are, leaders and activists working at the intersection of civil and labor rights. Today, we are looking at Jessie Lopez de la Cruz.
In 1919, Jessie Lopez was born in Anaheim, California. Her family was poor enough that she began working in fruit and vegetable fields at five. Her family soon began working as migrant farmworkers, and they were hit hard by the Great Depression. 
While working in San Juan Capistrano in 1932, Jessie was asked to help translate during a strike of Mexican workers, as she had the best English of the workers, who were mostly Mexican. In 1938, she married another farmworker, Arnold de la Cruz, and they went on to have six children.
She continued as a farmworker for decades before becoming inspired to start organizing workers. She wouldn't become an organizer until she was in her 40s. Her husband, Arnold, began working with César Chávez and the National Farm Workers Association (NFWA) in 1965. Meetings were held in the couple's home, and soon Jessie began to volunteer as well.
After the NFWA became the United Farm Workers (UFW), Jessie became the top recruiter in the union. She led or participated in a variety of actions, such as picketing stores, to advocate for the safety of Mexican American workers and against employer corruption and abuse. 
UFW established its first hiring hall in 1968 and Jessie became the manager. Her tireless efforts led her to even more exposure and activity in organizations like the Fresno County Economic Opportunity Commission, Central California Action Associates, California's Commission on the Status of Women.
Jessie worked to improve UFW as well. Her advocacy led the union to expand opportunities for women in leadership positions, despite strong opposition.
She retired from UFW in 1993 and spent her retirement working with California Rural Legal Assistance and her local Catholic charity. After she died in 2013, her biography was adapted into a television miniseries.
Watch a video with more about the story of Jessie Lopez de la Cruz: