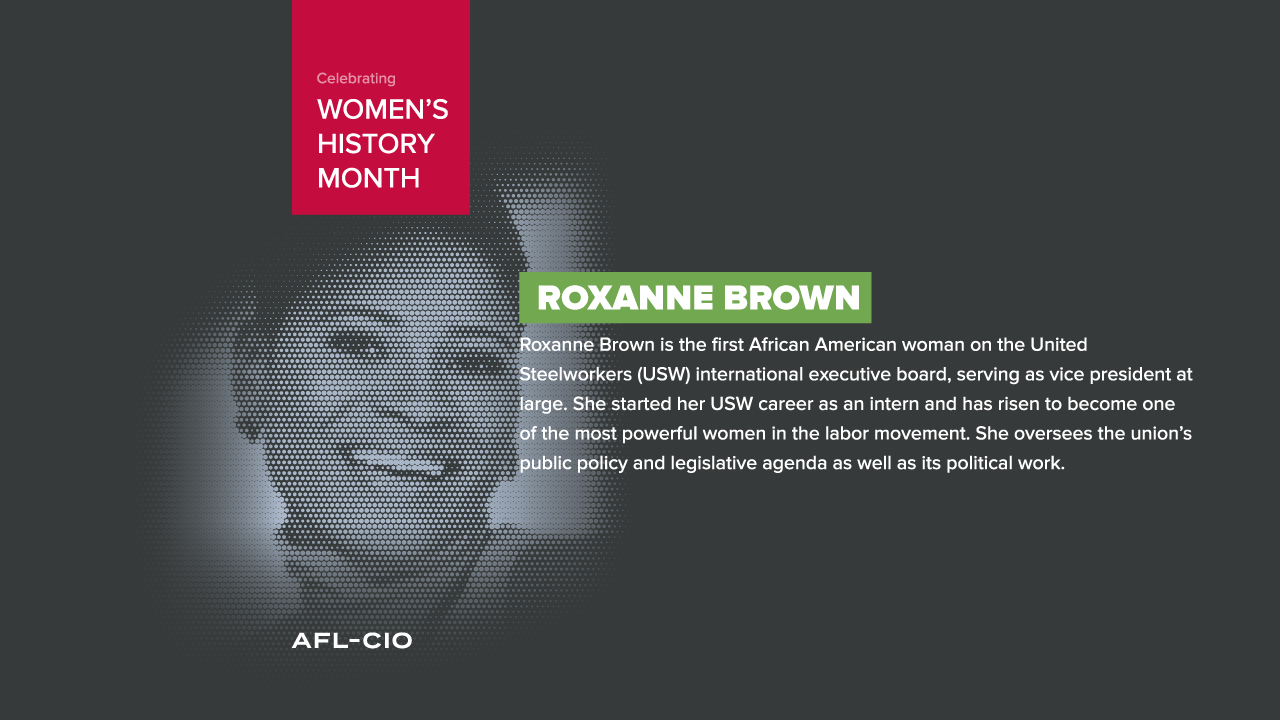 For Women's History Month, the AFL-CIO is spotlighting various women who were, and some who still are, leaders and activists working at the intersection of civil and labor rights. Today, we are looking at Roxanne Brown.
Roxanne Brown currently serves as international vice president at large for the United Steelworkers (USW). She has served USW's membership for more than two decades.
During her career, she has helped advance legislation to strengthen U.S. defense procurement laws and shape environmental policies to benefit USW members with jobs. She helped build bridges between USW members and the Environmental Protection Agency to achieve mutually beneficial goals. She worked to rally 20,000 people to protect the steel industry from foreign dumping.
She was born in Kingston, Jamaica, and raised in New York. Through the And Still I Rise program, Brown wrote about her work. Here are some key excerpts.
On the challenges of moving to clean energy:
Much of the work that we're trying to do is to help design good, sensible and reasonable clean energy policies that take my members into account on the industrial side, and in the building and construction trades. We want to ensure that all of us play a role in this new, emerging economy.
On the gender wage gap:
We have to create that equality across the board. Every wage gap that exists is money that's leaving the pockets of women all over the country. I grew up in a single-family household. My mom was a single mom. Every penny counts when you're a single mom. The labor movement understands that. This is why wage equality has been one of its biggest fights.
On how she got into union work:
I grew up around unions, but didn't know what they were. I'm from Jamaica. My family settled in New York. The women in my family worked in healthcare and food services. An aunt who worked for the county hospital was a member of the Civil Service Employees Association (CSEA). She would take me to union picnics and union parties, but I had no idea what CSEA was. I just thought it was the hospital party. That was my very first experience with unions. I started with the Steelworkers when I was 19 years old. 
On why she loves her fellow union members:
My very first day with the Steelworkers, I met a group of legislative interns who were members. That is when I fell in love with my union, because I fell in love with our members. They were nontraditional and diverse. They were from all walks of life. We're the largest union in the paper sector; the oil sector; chemicals and rubber; and the auto industry. We actually have more people working in the auto industry than the United Auto Workers because our members make the components for automobiles—steel, aluminum, seats, glass and tires—literally everything.
On diversity in the labor movement:
It is very helpful for the future and growth of our union for our members to be more comfortable with diversity, particularly as more and more public sector workers are organized and we get more nurses, bus drivers, and cab drivers in the fold. For our union to fully move into the 21st century, it needs to be inclusive. I'm part of us moving in that direction.
On the purpose of unions:
I want young people, people of color, immigrants, and women to know that unions are about power. They are about economic power. They are about educational power—because those wages allow people to send their kids to school. They are about financial power for the future, because a lot of these union jobs have very strong retirement benefits associated with them.