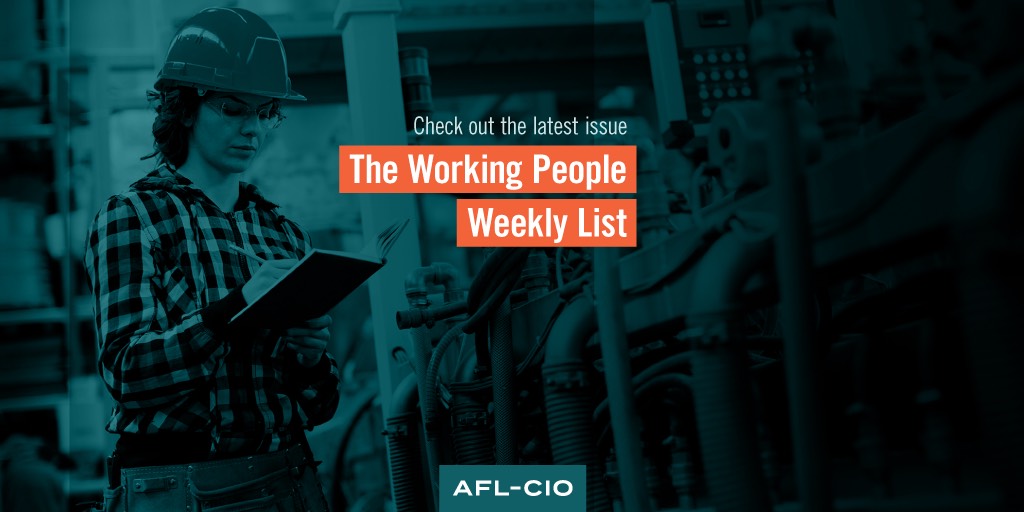 Every week, we bring you a roundup of the top news and commentary about issues and events important to working families. Here's the latest edition of the Working People Weekly List.
Boston-Area Union Members Form Volunteer Brigades: "The Greater Boston Labor Council (GBLC) is coordinating union members' volunteer efforts, working closely with Boston Mayor Martin J. Walsh to focus on areas where there is the greatest need for help. The mission of the labor council's volunteer brigades is to care for the most vulnerable people in Boston. Hundreds of union members, both laid off and currently working, have already started volunteering to serve their neighbors during this crisis."
Rhode Island AFL-CIO Helps Coordinate Distance Learning: "With American students learning from home, teachers, school staffers and their unions are stepping up in a variety of ways to create innovative solutions to meet the educational needs of young people during the coronavirus pandemic."
Service and Solidarity: Kennita Jones: "Kennita Jones is a roll mixer and has been working at Schmidt Baking Co. for 19 years. She is a member of Bakery, Confectionery, Tobacco Workers and Grain Millers (BCTGM) Local 68 in Baltimore. Like so many of America's workers deemed essential, Jones still leaves her family nearly every day and goes to work—despite the COVID-19 pandemic and the risk to her own health and that of her family's, she's proud to be doing important work during a crisis."
In Memoriam: Union Members Lost in COVID-19 Pandemic: "As the COVID-19 pandemic spreads across the United States, our sisters, brothers and friends in the labor movement are among the first casualties. It is important for us to work together during this crisis to prevent further deaths. It is important to thank those who are doing the work to keep us safe and fed. It is important to remember those who we lost because of the coronavirus."
Shame on Corporations Using COVID-19 Pandemic to Attack Workers: "While the COVID-19 pandemic wreaks its havoc on the world's population, working people are on the front lines, joining together to save lives and keep the United States running. And many are paying the ultimate price. The latest numbers from the CDC show that nearly 400,000 Americans have contracted the virus and more than 12,000 have died. We're currently facing one of the most challenging events in recent history. And some greedy corporations are using this time to attack these working people, attempting to use a crisis to roll back the rights of the very people who are dying while keeping America running."
Protect Essential Workers Now: In the States Roundup: "It's time once again to take a look at the ways working people are making progress in the states. Click on any of the links to follow the state federations on Twitter."
Fighting the Coronavirus: Service and Solidarity: "Meet Shekina Givens. She is an AFGE member and lead transportation security officer for the Transportation Security Administration and works at the Hartsfield-Jackson Atlanta Airport. She and her co-workers are in constant danger of getting COVID-19, but they show up for work to protect the traveling public every day. Learn more about her and other TSA workers during these dangerous times."
Economy Loses 701,000 Jobs in March; Unemployment Jumps to 4.4%: "The U.S. economy lost 701,000 jobs in March, and the unemployment rate jumped by nearly a point to 4.4%, according to figures released [April 3] by the U.S. Bureau of Labor Statistics."
Big Win on Back Pay: Worker Wins: "Our latest roundup of worker wins begins with a victory on back pay for NABET-CWA workers at CNN and includes numerous examples of working people organizing, bargaining and mobilizing for a better life."
On the Front Lines: What Working People Are Doing This Week: "Welcome to our regular feature, a look at what the various AFL-CIO unions and other working family organizations are doing across the country and beyond. The labor movement is big and active—here's a look at the broad range of activities we're engaged in this week."