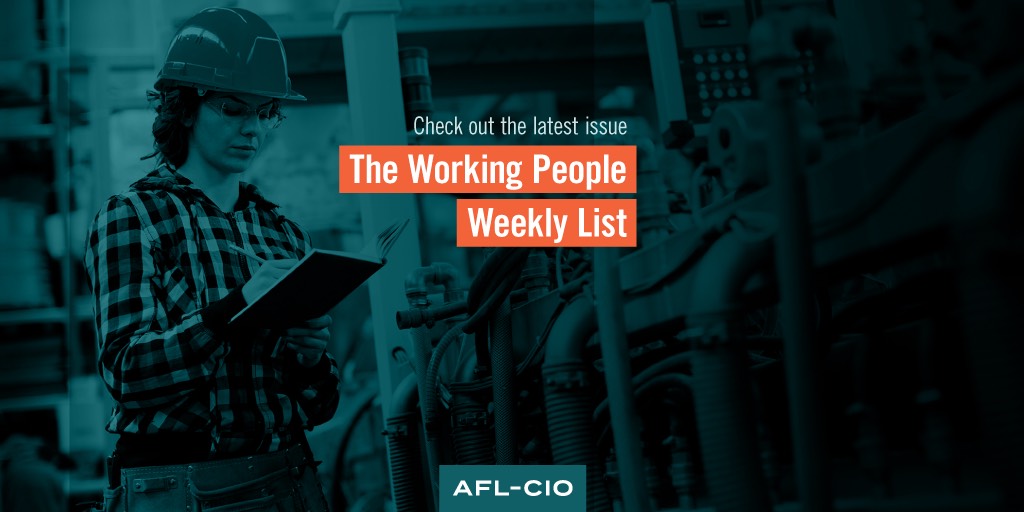 Every week, we bring you a roundup of the top news and commentary about issues and events important to working families. Here's the latest edition of the Working People Weekly List.
Union Leaders' Message to Workers About COVID-19: "Leaders of America's unions send a message of support and thanks to the union members and workers who are keeping our economy going and providing all of us with basic needs and essential services."
Labor-Radio Podcast Weekly: Danny Glover, Jamie Partridge and More: "This week, actor and activist Danny Glover says, 'We need to fight a fight for the new future' on Work Week Radio (KPOO), and Jamie Partridge of Communities and Postal Workers United says, 'This pandemic is life and death, if not for you, for your coworker, for your family, for their family, for our customers' on Labor Radio (KBOO), which included an excerpt from this year's online Labor Notes conference."
Plant Workers in Kentucky Fight for Safer Workplaces: "In late March, when workers at GE Appliances, a Haier company in Louisville, Kentucky, were mandated to work during the COVID-19 crisis, members of IUE-CWA Local 83761 sprung into action to make sure they were protected on the job. While the plant was shut down for one week, Local 83761 President Dino Driskell reached out to Gov. Andy Beshear and other elected officials who agreed to send letters to Haier calling for stronger workplace safety measures. The local's internal organizing team, led by Kindre Batliner, organized some 1,000 members for a 'drive-by' rally on March 28, calling on Haier to keep the plant closed until stronger safety and health protocols were in place."
We're All in This Together: What Working People Are Doing This Week: "Welcome to our regular feature, a look at what the various AFL-CIO unions and other working family organizations are doing across the country and beyond. The labor movement is big and active—here's a look at the broad range of activities we're engaged in this week."
Rhode Island's Working People and the Response to COVID-19: "Patrick Crowley, secretary-treasurer of the Rhode Island AFL-CIO, spoke to Erik Loomis of the Lawyers, Guns & Money blog about the response from the state federation and the larger labor movement to COVID-19."
Helping Those in Need Is a 'Labor of Love' for Union Members in North Georgia: "Wearing face masks and gloves and sharing a determination to help their brothers and sisters in need, dozens of members of the Atlanta-North Georgia Labor Council sorted and bagged emergency food to hand out to union families on Saturday, April 18. The 'Labor of Love' food drive was a member-to-member relief effort in collaboration with the United Way of Greater Atlanta and the Georgia State AFL-CIO, in partnership with Margie's House mobile food pantry and the city of Fairburn, Georgia, to help 300 union families who are now struggling to put food on their tables. It was one of a series of volunteer events that the labor council has coordinated to support union members and the wider community during the pandemic."
Worker Safety Above Political Gain: In the States Roundup: "It's time once again to take a look at the ways working people are making progress in the states."
​​​​​​​Defend Global Supply Chain Workers Facing the COVID-19 Pandemic: "COVID-19 may not yet have sickened as many people in developing countries as in the United States or Europe, but more than 150 million workers in supply chains are already suffering the swift and massive impact of the pandemic. These workers have even less savings and weaker social protection systems than the very weak ones America's workers have. Just as we insist U.S. government assistance in this crisis must prioritize jobs and workers' lives and livelihoods, global collective efforts must focus on millions of workers in global supply chains who have no safety net."
San Diego and Imperial Counties Labor Council Launches Food Assistance Program: "We are in an unforeseen crisis. Just a few weeks ago none of us could have predicted the economic impact created by the COVID-19 pandemic. Our members and our neighbors are in a financial and food crisis. Our entire labor council operation has converted to an emergency team focused on securing member benefits and running a substantial food distribution operation. To date we've distributed more than 150,000 pounds of food and served over 5,000 families in need. In the coming days, our distribution will provide food to more than 2,000 families per week, as our operations continually expand. I wish to commend our staff team for the work they are doing to keep this operation running, in the face of the health crisis swirling around them."