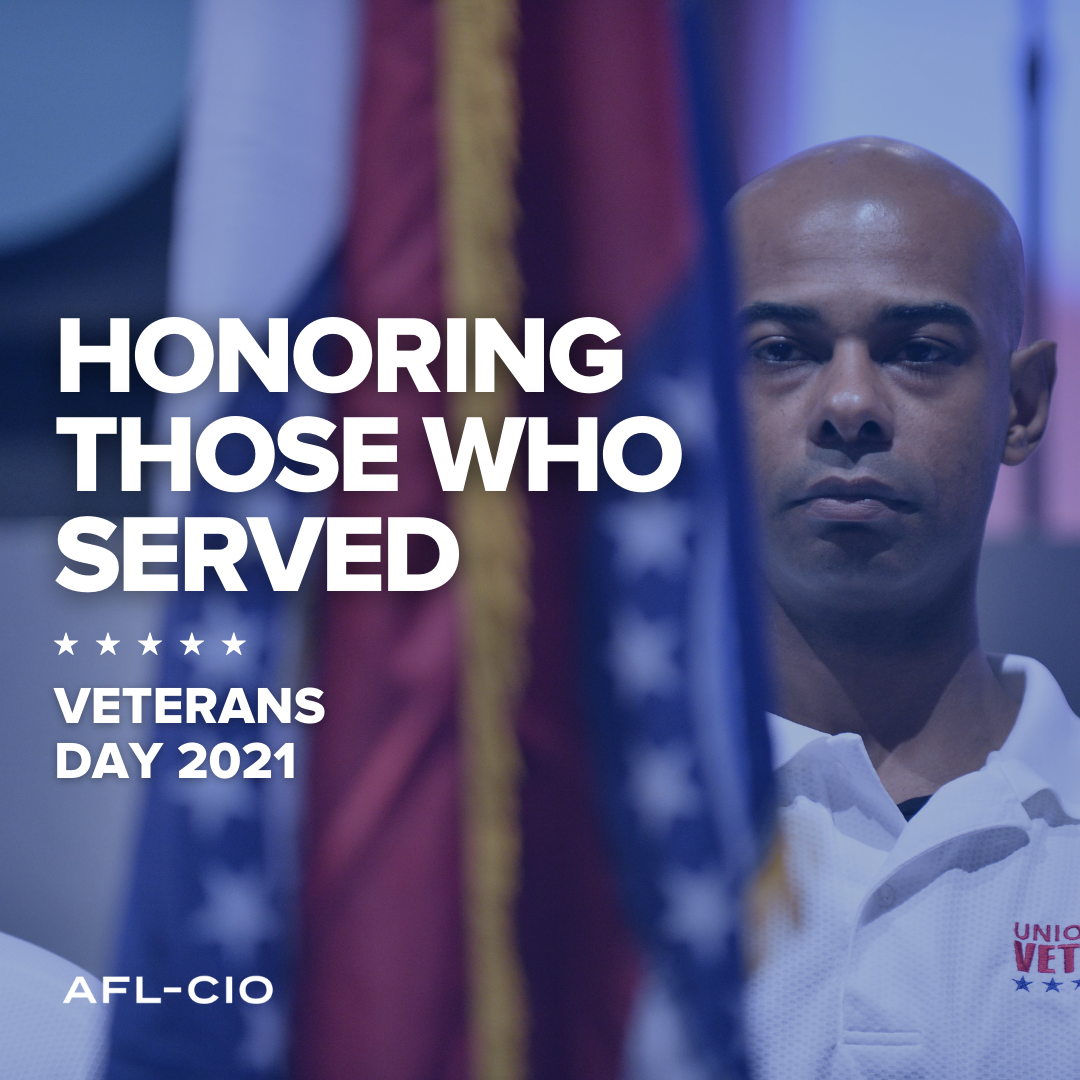 This Veterans Day, I join the entire country in thanking and recognizing America's servicemembers and their families.
Coast to coast, from the mountains to the plains to small towns and major cities, our own labor family includes more than 1 million veterans. They've served our country and continue to serve so much more than themselves by raising their voices on the picket lines, leading negotiations at the collective bargaining table and defending democracy in America's workplaces.
That's what the labor movement is all about. Unions put power behind workers' voices and having a say in our economic future is a cornerstone of American democracy. It's patriotic.
It's why the labor movement will keep fighting for the rights of all working people, especially the freedom to stand together in unions without the fear of getting fired.
I come from a union veteran family. My dad was a member of the electrical workers union, IBEW Local 125 and a veteran of the U.S. Marine Corps. He grew up poor, working in the orchards of Hood River Oregon where his family lived in a one room fruit picking shack. He and his four siblings often worried about keeping a roof over their head and food on the table. To help make ends meet, he started working at age 12, sandblasting tombstones. He signed up to join the Marine Corps right out of high school, and was deployed straight to Vietnam.
When he returned, he faced the question most veterans do: now what? A union lineman apprenticeship program put him on the path to a good job at Portland General Electric. And that job put our family on the path to the middle class.
Unions are transformational. In one generation, the union difference meant my sister and I didn't have to worry about secure housing or having enough to eat.
That's what drives me every single day: Every working person in this country, especially our veterans and their families, should have the life-changing power of a good, union job.
The labor movement has always engaged and supported veterans. And as we build a bold, dynamic and inclusive movement, our Union Veterans Council is taking it to the next level to shape the future of work and expand workplace democracy. Today, the council will launch a far-reaching campaign to engage, educate and mobilize our veteran community because veteran voices in our unions are powerful, persuasive and unifying.
As the nation honors their service, we want every veteran and family to know that they can have a place in our movement.
Please be sure to join the Union Veterans Council, AFL-CIO for a special Operation Union Veterans Day event today at noon ET. You can join here.
Featured speakers include Liz Shuler, president of the AFL-CIO; Cecil Roberts, international president of the Mine Workers; Will Attig, executive director of the Union Veterans Council; and James Rodriguez, Department of Labor's principal deputy assistant secretary for policy for Veterans' Employment and Training Service.