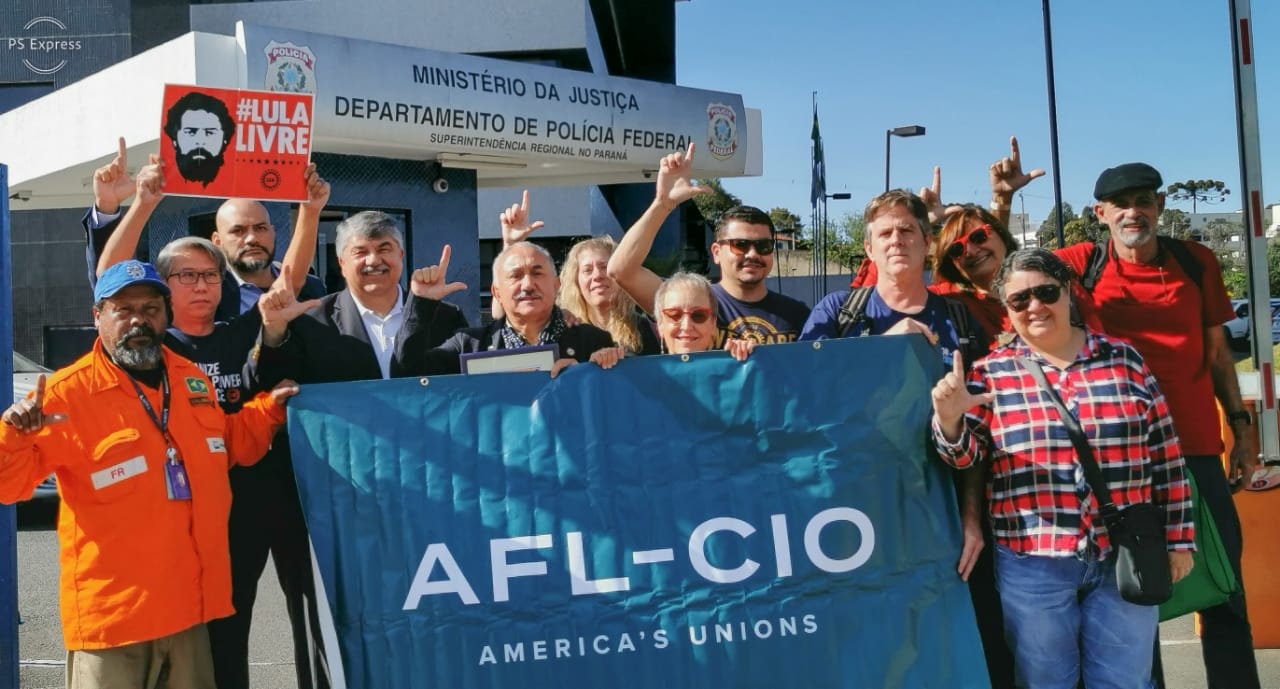 Imagine a president lifting 40 million citizens out of the poverty he had struggled under. Imagine a president making it easier for people who had been excluded from their nation's wealth to get decent jobs, basic public services, a college education or technical training. Imagine a president uplifting his country on the world stage as a model for shared prosperity and an economy that works for working people regardless of their race. Imagine that president leaving office after two terms with an approval rating over 80%. Where do you imagine that president should be nine years after leaving office?
Imagine it or not, the president described above is in jail, unjustly convicted to prevent him from running again in 2018—even though he led in all the polls. His name is Luiz Inácio Lula da Silva. AFL-CIO President Richard Trumka (UMWA) traveled to Curitiba, Brazil, this week, joining the global labor movement to demand Lula's release and present the country's former president the 2019 George Meany–Lane Kirkland Human Rights Award. The AFL-CIO announced the award in March to recognize Lula's lifelong work. In Brazil this week, the AFL-CIO extended its solidarity and support to Lula, the whole Brazilian labor movement, and the country's vibrant social and political activists and groups who continue fighting for a better life and social justice.
Trumka said:
The AFL-CIO and its unions will work to engage American workers and their families who remember what it's like to have a president who works for the people. The struggle to free Lula and defend democracy in Brazil is not just for Brazilians, but for all of us.

Lula Livre! Free Lula!
Lula said: 
They are talking about lightening my sentence or letting me finish it under house arrest, but I insist that I will stay right in this jail until I prove my innocence. I will not trade my dignity to get released. And I will keep fighting for all Brazilians and our democracy. We will prove that the judges and prosecutors and media lied to put me here and steal our democracy. We will take it back.
Lula is a political prisoner because of all the good he did to make development more equitable in Brazil, improving workers' rights, and the inclusion and access to social and human rights, in general. The AFL-CIO, its unions and the International Trade Union Confederation and the global labor movement are calling for Lula's immediate release because of his life's work for democracy and social justice and because of the many illegalities committed in the process that has put him in prison.