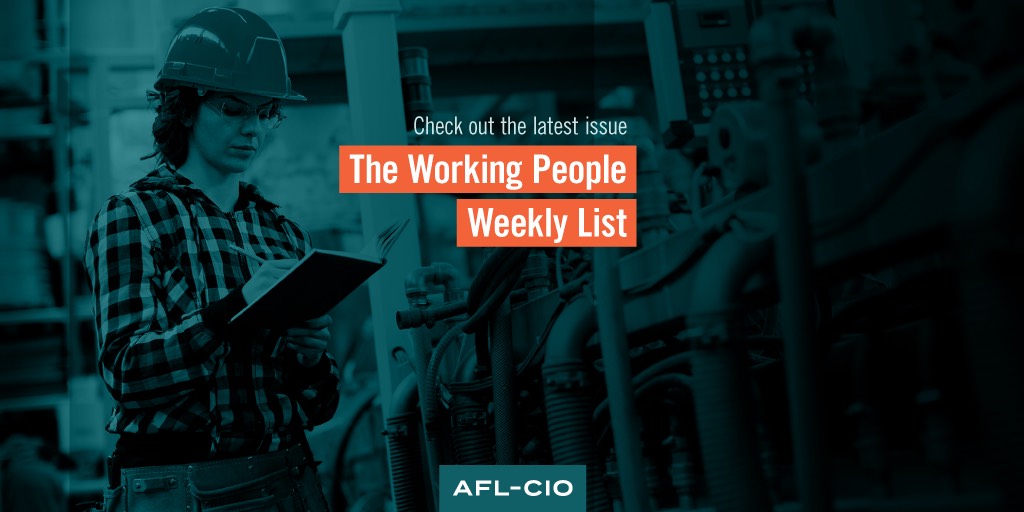 Every week, we bring you a roundup of the top news and commentary about issues and events important to working families. Here's the latest edition of the Working People Weekly List.
From the Front Lines: Britney's Story: "'It's always the right time to do the right thing.' My union leader, William Voltz, always says that Martin Luther King Jr. quote. My name is Britney Andrews. I am a union shop steward with UNITE HERE Local 23 in Charlotte, North Carolina. Before the coronavirus forced me out of work, I had been a bartender at Phillips Famous Seafood at the Charlotte airport for three years."
AFSA Hosts Town Hall on Strategies to Reopen Schools: "Last week, members of the American Federation of School Administrators (AFSA) participated in an 'Ask Ernie' online town hall with President Ernest Logan. The event focused on sharing strategies on the issue of reopening schools."
Labor Movement in Milwaukee Holds Food Drive, Calls Out Johnson for Opposing the HEROES Act: "The Milwaukee Area Labor Council, led by President Pam Fendt (LIUNA), held a 'Be a Hero' food drive yesterday. For the past week, union members have been pledging to donate food to support families in need."
Save the Post Office: What Working People Are Doing This Week: "Welcome to our regular feature, a look at what the various AFL-CIO unions and other working family organizations are doing across the country and beyond. The labor movement is big and active—here's a look at the broad range of activities we're engaged in this week."
Iowa's Labor Movement Responds to Devastating Wind Storm in Cedar Rapids: "A wind storm that hit the Cedar Rapids, Iowa, area last week with hurricane-force winds has left tens of thousands of people without shelter and electricity. Tent cities have popped up in neighborhoods due to widespread damage to the roofs of homes and apartment complexes."
Bloomingdale Sends Support to Organizing Workers at Milwaukee Art Museum: "On Aug. 7, Wisconsin State AFL-CIO President Stephanie Bloomingdale (AFT) sent a letter of solidarity and support to 150 workers at the Milwaukee Art Museum (MAM) who are seeking union representation with Machinists (IAM) Local Lodge 66."
Are You Ready to Vote?: "One hundred years ago today, after a seven-decade campaign, the 19th Amendment gave the vote to millions of women across the United States. And although achieving women's suffrage in 1920 was a major victory, it was another 45 years before the Voting Rights Act of 1965 eliminated voting barriers for women of color."
ATU and Kentucky AFL-CIO Rally for Hazard Pay, Workplace Safety in Louisville: "Amalgamated Transit Union (ATU) Local 1447 protested Thursday outside Transit Authority of River City (TARC) offices in Louisville, Kentucky, to call for hazard pay and stronger safety measures to protect members during the COVID-19 pandemic."
The Strength and Solidarity of Our Membership: Worker Wins: "Our latest roundup of worker wins begins with a series of wins in Maine and includes numerous examples of working people organizing, bargaining and mobilizing for a better life."
NATCA Members Deliver Thanks to Hospital Staff Who Saved One of Their Own from COVID-19: "When Chelsea Corcoran, a member of the National Air Traffic Controllers Association (NATCA) in Houston, Texas, fell severely ill with COVID-19, the staff at Houston Methodist The Woodlands Hospital did everything they could to save her life and the lives of the twins she was carrying."
South Carolina's Labor Movement Comes Together to Provide Food Relief to Families in Need: "Members of the Charleston Central Labor Council, the South Carolina AFL-CIO, the Greater Charleston chapter of the A. Philip Randolph Institute and their community allies teamed up last Thursday to provide food relief for some dozens of union families in the Charleston, South Carolina, area."
Washington State Labor Council Launches First-of-Its-Kind Naturalization Legal Aid Program: "The Washington State Labor Council (WSLC) is launching a program to offer legal aid to permanent residents seeking naturalization. The program will prioritize union members, helping members obtain the resources and legal aid needed to become citizens."
New Jersey Unions Distribute 2,000 Food Kits to Unemployed Workers During Heavy Rain: "Driving rain and thunder couldn't stop New Jersey's working people from helping out Atlantic City families struggling during the COVID-19 pandemic. The New Jersey State AFL-CIO, in connection with the Casino Reinvestment Development Authority and the Community FoodBank of New Jersey, distributed more than 2,000 food kits to laid-off union members and their families."
Working People Demand Action: In the States Roundup: "It's time once again to take a look at the ways working people are making progress in the states."
Economy Gains 1.8 Million Jobs in June; Unemployment Declines to 10.2%: "The U.S. economy gained 1.8 million jobs in July, and the unemployment rate declined to 10.2%, according to figures released Friday morning by the U.S. Bureau of Labor Statistics. The improvements reflect the continued resumption of economic activity that previously was curtailed because of the COVID-19 pandemic."
Activision Blizzard Game Workers Take Collective Action to Reduce Pay Inequities: "Employees of video game publisher Activision Blizzard Inc. are comparing their salaries after an internal company survey revealed that more than half of the company's workers were unhappy with their pay. Activision Blizzard had promised pay increases after conducting a pay equity study, but many game workers have expressed frustration about the raises provided."